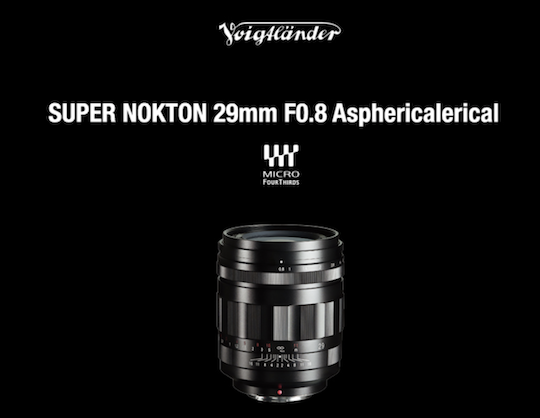 The Voigtlander SUPER NOKTON 29mm f/0.8 Aspherical lens for Micro Four Thirds is now officially announced (the price is expected to be $2,100/€1,799):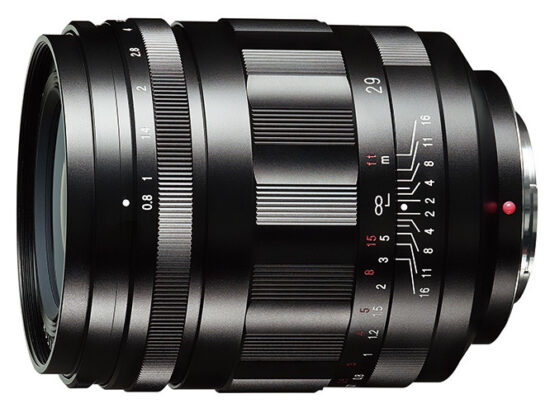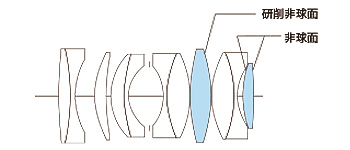 The Nokton 29mm F0.8 is a standard lens designed exclusively for Micro Four Thirds. Achieves the brightest F0.8 * as an interchangeable lens for photography currently on the market. The angle of view of the diagonal 42.75 ° (equivalent to a 58mm lens in the 35mm format) is the same as the standard lens with a large aperture of the past, and you can enjoy shooting with a large blur due to the ultra-large aperture of F0.8.
Main features:
● Amazing large aperture With a large aperture with an
open F value of 0.8, it is possible to shoot with just "as is light" even under extremely low light conditions. It is also the best lens for shooting with shallow focus and beautiful bokeh when the aperture is open.
● Ultimate lens design
By adopting a proprietary GA (grinding aspherical surface) lens for the optical system, it is possible to design with a high degree of freedom using a glass material with a high melting point that cannot be used with a glass mold aspherical surface. While achieving an ultra-large aperture of F0.8, high image quality can be obtained from the widest aperture, and a compact size and weight that are easy to handle are achieved.
● Various expressive power When the
aperture is wide open, the straightforward and gentle bokeh emphasizes the focused motif and creates a three-dimensional effect. If you stop down the aperture, you will get a very sharp image, and you can express a variety of photographs with a single lens. The number of apertures is 12, and the out-focus part of the point light source is depicted in a neat shape.
● Aperture click switching mechanism
With the newly designed aperture switching mechanism, it is possible to open and close the aperture ring steplessly without generating a clicking sound. This eliminates the need to worry about picking up the aperture ring operation sound when recording movies, and also enables severe depth control by fine-tuning the aperture ring.
● Dedicated lens hood included
A metal lens hood with excellent light-shielding effect is standard equipment.
● Micro Four Thirds dedicated mount
Compliant with the Micro Four Thirds standard, the optics and mechanism are specially designed. While covering the image size of the image sensor, high image quality is achieved by optimizing it for the Micro Four Thirds sensor.
● Manual focus that enables reliable focus operation
By adopting an all-metal helicoid unit that has been processed and adjusted with high precision and high-quality grease that produces an appropriate torque, focusing with a smooth operation feeling is realized. Allows for delicate focus adjustment.
Voigtlander SUPER NOKTON 29mm f/0.8 Aspherical lens specifications:
| | |
| --- | --- |
| Focal length | 29mm |
| Caliber ratio | 1: 0.8 |
| Minimum aperture | F16 |
| Lens configuration | 11 elements in 7 groups |
| Angle of view | 42.75 ° |
| Number of diaphragm blades | 12 sheets |
| Shortest shooting distance | 0.37m |
| Maximum shooting magnification | 1:10 |
| Maximum diameter x total length | φ72.3 × 88.9mm |
| Filter size | φ62mm |
| weight | 703g |
| Lens hood | Attached |
| Others: | With aperture switching mechanism |
Suggested retail price (excluding tax): ¥ 225,000.
To be released on December 10, 2020.
Sample photos can be found here.