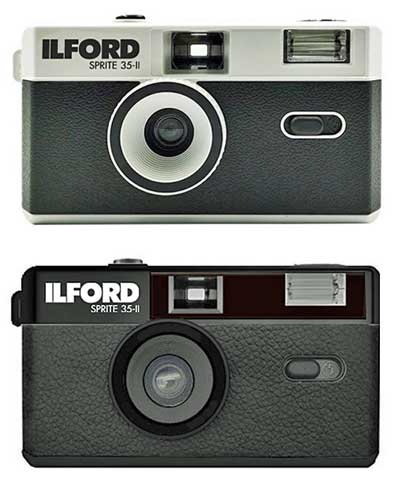 Ilford announced a new cheap ($34.95), retro Sprite 35-II compact film camera which pays homage to the original Ilford Sprite 35 from the 1960s:
"The camera has a fixed shutter speed (1/120s) with a 31mm, single element f9 fixed-focus wide-angle lens, perfect for capturing most well-focussed daylight scenes, and also features a built-in flash with a 15-second recycle time for night time shooting. Users can load the Sprite 35-II with their favourite film, whether its colour negative or black and white, allowing them to capture quick snapshots or moody monochrome scenes. The camera has a manual film advance winding lever to move through each exposure and rewind the roll when the film is finished. It's extremely lightweight and compact, weighing just 122 grams, with dimensions of 119mm (W) x 67 (H)mm x 44mm (D). It will be available in Black and Black & Silver versions."
B&H currently has a listing for this Ilford Harman 35mm film camera priced at $30.