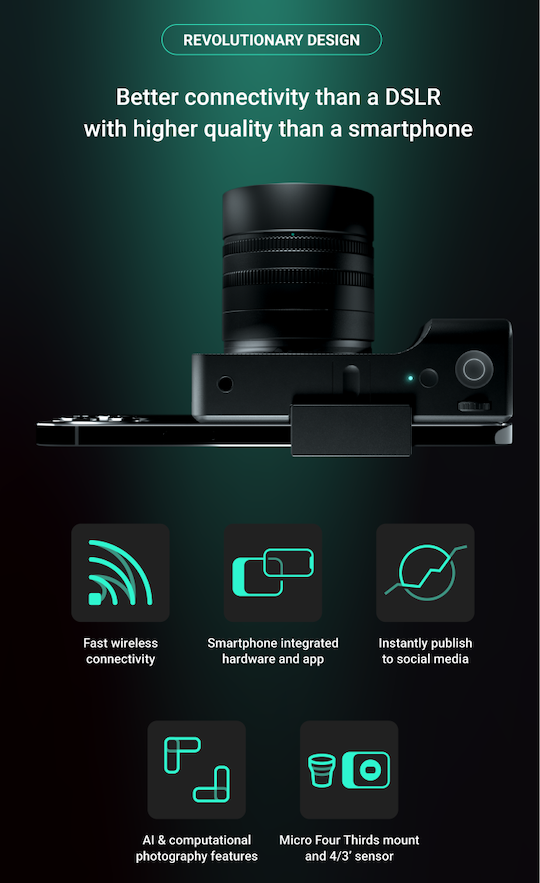 The Alice AI camera I reported about last year is now available for pre-order on Indiegogo.
Additional information: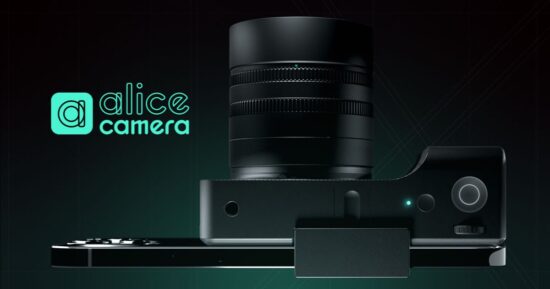 The AI Camera content creators have been waiting for is officially available for pre-order
Alice Camera combines the experience of a smartphone with the quality of a DSLR.
February 9th 2021, London, UK:  Photogram, the organisation behind the eagerly awaited Alice Camera has today announced that you can pre-order the AI-accelerated computational camera now for a super early bird price via its online pre-order campaign. The Alice Camera is what content creators have been lacking. As content platforms evolve, the camera market needs to adapt – the Alice Camera brings together the experience of a smartphone with the quality of a DSLR camera to shoot, edit and share high-quality 4K content instantly.
In Europe alone, there are 20 million income-generating content creators, which include Photographers, Videographers, YouTubers, Instagrammers, TikTokkers and Twitch streamers to name a few, yet most are working with devices that do not maximise their potential – smartphone sensors are not up to spec, yet DSLR or mirrorless cameras lack computational photography capabilities.
But all that is about to change. The Alice Camera gives total control to the user and works with their smartphone to shoot and share better content in a fraction of the time – simply point, shoot and share or live stream to your audience on social media in high-quality full-width 4K video.
Its sleek design mounts to the back of most smartphones (although it can also work unattached) and its native iOS and Android app will connect to and control the camera via the touchscreen interface, giving users a smooth user experience and a faster production workflow. Fast wireless data transfer between camera and phone gives users a seamless real-time viewfinder on their smartphone screen.
Alice's unique selling point is that it harnesses the computational photography that you see in the latest smartphones but applies it to professional quality optics. The Alice Camera also offers:
A 4/3 image sensor, eight times bigger than the ones in smartphones. The sensor's dual native ISO and quad-bayer structure gives users excellent low-light performance, high dynamic range and exceptionally low noise;
The ability to attach your favourite Micro Four Thirds lens, the most flexible and compact interchangeable lens system around, with over 50 professional-quality lenses available, or attach an adapter to use lenses with different mounts too;
A dedicated AI-chip will run the company's patent-pending end-to-end deep learning pipeline on-device for innovative computational photography features to automate scene capture and enhance image processing.
Being a computational camera, Alice will be regularly updated via software updates, meaning that content creators can stay on top of their game without constantly purchasing new devices – just lenses of their choice. In addition, Alice's open-source software can be customised like no other camera — others will be free to build add-ons and features that will benefit all Alice Camera users. An open-access environment means creators can deeply customise their creative process, encouraging collaboration and software development.
The Alice Camera will be shipped to pre-order customers in the Autumn when the RRP will be £750 for the body only. However, content creators can order the Alice Camera via the Indiegogo campaign which launched today and benefit from a special pre-order price starting from £550 (26% discount).
Vishal Kumar, CEO and Co-founder of Photogram said, "Today's announcement comes after 18 months of liaising with over a thousand content creators, taking part in extensive accelerator programmes and building prototype Alice cameras. We are so pleased that we can bring to market a product that has been built from the ground up by creators for creators."
"Over the next decade, the creator economy driven by the passion economy is set to grow rapidly. Creators are growing at 15% annually and the market for digital photography more broadly will reach $150bn by the end of 2026. Creators need a tool more suitable for our new world of content creation; imagine the future for creators and the industry with the Alice Camera's features and functionality?"
About Photogram
Photogram was founded in June 2019 when it's co-founders Vishal Kumar and Dr Liam Donovan met on the Entrepreneur First London 12 cohort. The company secured a £175k innovation grant from Innovate UK, the UK government's innovation agency, and joined the Micro Four Thirds System standard run by Olympus and Panasonic. The Alice Camera will be manufactured in Britain and is the first device launched by Photogram.