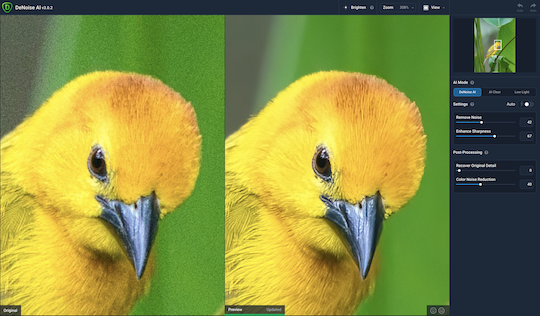 Topaz Labs released a new version 3.0.2 of DeNoise AI with several improvements (DeNoise AI is used for eliminating noise and recovering details):
Completely new AI engine – process images faster with revamped AI engine.
Updated AI model – updated low light model to give better details in dark areas.
Bug fixes & interface improvements.
Topaz Labs DeNoise AI version 3.0.2 (released March 24th, 2021):
Fixed image output being corrupted when saving in standalone mode
Fixed an issue with the installer where sometimes it wouldn't drop all the models
Topaz Labs DeNoise AI version 3.0.1 (released March 23rd, 2021):
Fixed padding issue in the toolbar when using left side control mode
Fixed issue where watermark warning would prevent actually saving
Fixed online installer not dropping models correctly for legacy users
Fixed icon not being dropped correctly
Fixed preview panel not closing when selected image is closed
Changed error message to mention updating drivers as a potential solution
Temporarily getting rid of legacy installer
You can use coupon code RUMORS15 for an additional 15% off on all Topaz Labs products.
Also: the DxO Spring 30% sale on Nik Collection, Photolab, Filmpack, and Viewpoint is ending on March 28.