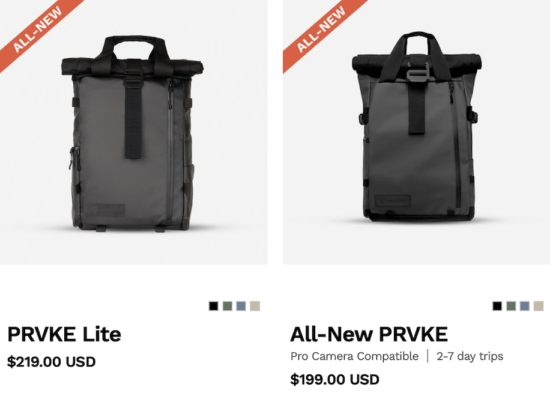 WANDRD released the new PRVKE camera bags series. Here are the main PRVKE camera bags updates:
Back panel and shoulder straps — updated shapes and padding — a more comfortable, breathable, and versatile carrying experience for all body shapes and sizes
Hidden passport pocket is larger and more discreet
New luggage pass-through strap
Stronger magnets on tote handles
Updated zipper u-pullers
New, easier-to-use key hook
Velcro-and-roll cinch strap webbing organization
Updated fleece lined pocket by attaching it to the flap access point of the upper compartment and
reversing the opening direction — no longer hangs when accessing top compartment from inside the bag
Updated laptop/tablet closure system and added 3 new organization pockets on the sleeve
Removed liner flap that covered the camera cube compartment for quicker access to your gear
Need to Know Features Across the PRVKE Series:
Padded Laptop Sleeve w/ Organization Pockets
Weather Resistant Materials
Secure Passport Pocket
Clamshell Opening
Quickdraw Side Access
Fleece-Lined Pocket
Magnetic Tote Handles
Expandable Water Bottle/Tripod Pocket
PRVKE 41: The PRVKE 41 has all the features you've come to love and updates, but in a larger package. We took the PRVKE 31 and increased the depth by 1.5" so it can fit the Essential Deep and Pro Deep Camera Cubes, which fit Pro DSLRs, cinema cameras, and cameras with battery grips.
PRVKE Lite: The PRVKE Lite, the smallest PRVKE pack at 11L, has a built-in Camera Cube and streamlined features of the larger PRVKE series packs. With the same innovative design and high-quality weatherproof materials as the other PRVKE series packs, it is the perfect daily carry.
Additional pictures of the new PRVKE Lite: