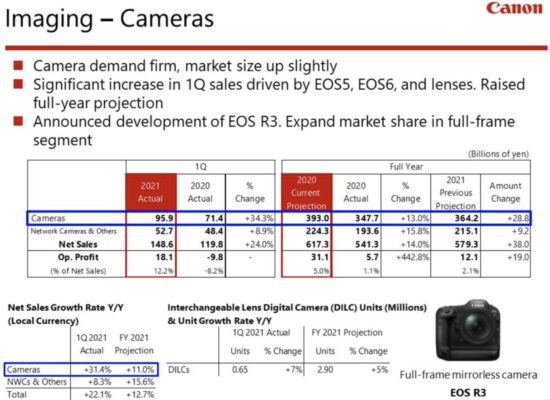 Canon released their Q1/2021 financial results – here are the main points for the Imaging/Camara Business:
As for Imaging, still benefiting from the effects of new camera bodies, unit sales of both cameras and lenses exceeded our plan. Profitability improved significantly from last year due to a rise in average selling price and an increase in sales efficiency.
As for cameras, even amid continued restrictions on people's movement, demand for cameras remains solid, supported by the need for high-quality visual expression. Based on this, we still expect the 2021 camera market to be up slightly or 5.8 million units.
In the first quarter, revenue was significantly higher than last year, as sales remained strong, driven by the EOS R5 and EOS R6 which were launched in the second half of last year.
For the full year, reflecting the situation surrounding sales in the first quarter, we not only raised our projection for camera unit sales by 100 thousand to 2.9 million, but also raised our projection for revenue.
Additionally, for new types of cameras, such as the PowerShot Zoom that was launch at the end of last year and has attracted quite a bit of attention for its ease of capturing long-range images with one hand, we are steady creating new markets.
Source: Canon
---
15% off Topaz Labs products with code RUMORS15
20% off ON1 products with code NIKONRUMORS
10% off Viltrox lenses with code NIKONRUMORS
5% off  Funleader lenses with code LEICARUMORS
$10 off Luminar with code PHOTORUMORS
10% off Oberwerth bags with code RumorsF21
$20 off Topaz Gigapixel (no coupon needed)
10% bonus on gear trade-in at KEH (no coupon needed)
15% off Capture One Nordic Style Kit (no coupon needed)