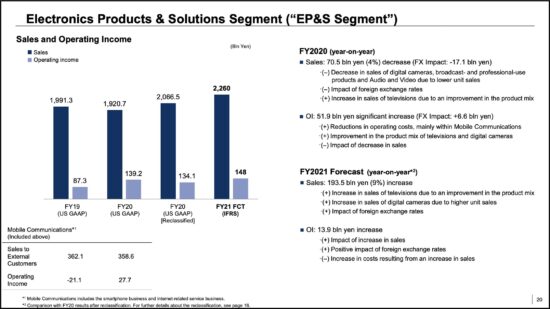 Sony FY2020 financial results are out. Here is a nice recap from Image-sensors-world (more information can be found at SonyAddict):
FY20 sales decreased 5% year-on-year to 1 trillion 12.5 billion yen primarily due to lower sales of image sensors for mobile.
Operating income decreased a significant 89.7 billion yen year-on-year to 145.9 billion yen primarily due to an increase in research and development expenses and depreciation, as well as the impact of the decrease in sales.
FY21 sales are expected to increase 12% year-on-year to 1 trillion 130 billion yen and operating income is expected to decrease 5.9 billion yen to 140 billion yen.
In FY21, we expect that our market share on a volume basis will return to a similar level as it was in the fiscal year ended March 31, 2020, thanks to our efforts to expand our customer base in the mobile sensor business, and we will manage the business in a more proactive manner while keeping an eye on risk.
We plan to increase research expenses in FY21 by approximately 15%, or 25 billion yen, year-on-year to expand the type of products we sell and to shift to higher value-added models from the fiscal year ending March 31, 2023 ("FY22").
We expect image sensor capital expenditures to be 285 billion yen, part of which was postponed from the previous fiscal year.
We plan to shift to higher value-added products that leverage Sony's stacked technology in preparation for an improvement in the product mix from FY22, and we will concentrate our investment on production capacity necessary to produce them.
The other day, we held a completion ceremony for our new Fab 5 building at our Nagasaki Factory. Expansion of production capacity is progressing according to plan and we will build, expand and equip facilities in-line with the pace of expansion of our business going forward.
Shortages of semiconductors have become an issue recently, but, with the cooperation of our partners, we have already secured enough supply of logic semiconductors used in our image sensors to cover our production plan for this fiscal year.
However, there is a possibility that the semiconductor shortage will be prolonged, so we are accelerating the shift to higher value-added products that we have been advancing heretofore.
We are also continuing to proactively pursue mid- to long-term initiatives in the automotive and 3D sensing areas and will explain more details at the IR Day scheduled for next month.
---
15% off Topaz Labs products with code RUMORS15
20% off ON1 products with code NIKONRUMORS
10% off Viltrox lenses with code NIKONRUMORS
5% off  Funleader lenses with code LEICARUMORS
$10 off Luminar with code PHOTORUMORS
10% off Oberwerth bags with code RumorsF21
$20 off Topaz Gigapixel (no coupon needed)
10% bonus on gear trade-in at KEH (no coupon needed)
15% off Capture One Nordic Style Kit (no coupon needed)