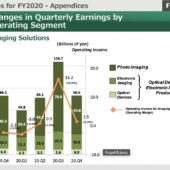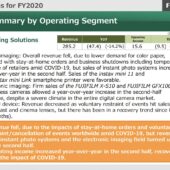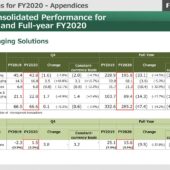 Fujifilm released their FY 2020 earnings report – here are a few quotes from the Imaging Solutions presentation:
In the Imaging Solutions segment, consolidated revenue amounted to ¥285.2 billion (down 14.2% year-over-year).

Consolidated operating income amounted to ¥15.6 billion (down 37.8% year-over-year).

In the photo imaging business, revenue decreased due to the impact of voluntary restraint and cancellation of events resulting from the spread of the COVID-19 pandemic, but sales of instant photo systems, which enable users to enjoy on-the-spot printing of photos, increased year-over-year in the second half. Sales of instant photo systems recovered mainly in Europe, the U.S., and China as we strengthened online sales by using social media to promote a new way of enjoying time at home. Sales of the instax mini Link, a printer for smartphones, and the instax mini 11 instant camera were favorable, and the instax SQUARE SQ1, an entry model launched in November 2020 compatible with the popular square format film also contributed to higher revenue. For print services, new personalized features were added to the Year Album, a photo book service, in April 2020, enabling automatic selection and layout of photos according to individual interests and preferences through the use of AI technology, which have been well received by users. We will continue meeting increasingly diverse customer needs and offering user-friendly, high-value added products and services, while also communicating to the world the intrinsic photographic values of "shooting, preserving, displaying, and gifting."

In the optical device and electronic imaging business, revenue from the electronic imaging field, which decreased in the first half due to reduced demand stemming from the COVID-19 pandemic, recovered in the second half to rise above the level of last year. The FUJIFILM X-S10 mirrorless digital camera, launched in November 2020, has been well received for its powerful image stabilization and large grip despite its compact size, and it has contributed to the expansion of the X mount user base. Sales of the FUJIFILM GFX100S, released in February 2021 together with the FUJINON Lens GF80mm F1.7 R WR, exceeded expectations, having gained a high reputation worldwide for its superior image quality using a large format sensor despite its compact body. Going forward, we will continue providing value-added products and revitalizing the market, along with providing the pleasure of taking photos.

In the optical device field, sales of broadcast and cinema lenses fell due to cancellation of events and shooting, but sales of monitoring zoom lens and surveillance camera with built-in zoom lens have risen year-over-year from the second quarter. Aiming to achieve business growth in this field, we are expanding our business domains and continuing to develop innovative products that satisfy the diverse needs of the market, including ultra-short-throw projectors and long-range surveillance cameras, and newly developed multispectral camera systems.
Via FujiAddict