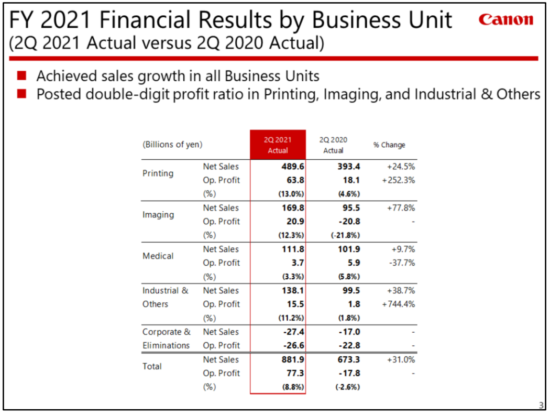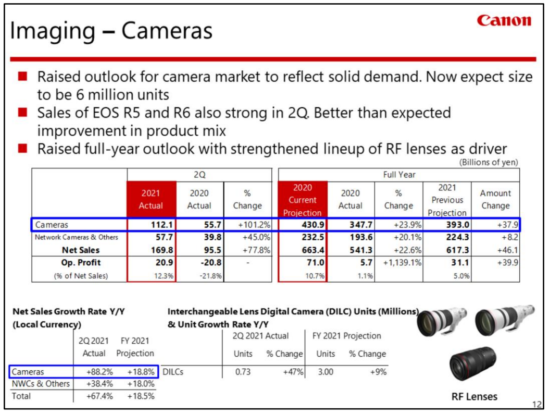 Canon released their Q2 financial results – here is the recap:
Demand for cameras is growing steadily thanks to the strength of consumer spending in the United States and elsewhere, and the increasing number of people picking up cameras as a hobby and image expression as a new way of using time amid the COVID-19 pandemic. As a result, we raised our outlook for the size of the global camera market by 200 thousand units and now expect the overall size to be 6 million units for the full year.

In the second quarter, the share of total sales attributable to the EOS R5 and EOS R6, for which sales remain strong, has increased more than expected.

In addition to this, the number of full-frame mirrorless camera users who purchase RF lenses has been accelerating since the launch of the R5 and R6, creating a situation where we cannot supply some products in a timely manner.

From a longer perspective, in order to meet the strong demand for RF lenses as well as expand the range of image capture, a 400mm and a 600mm super-telephoto lens that combine high image quality and light weight, as well as a macro lens that delivers improved maximum shooting magnification of up to 1.4x were added in July. By continuing to enhance our lineup of RF lenses, which currently consists of 22 lenses, we will further strengthen our full-frame mirrorless camera system and increase our market share in this category.

As for our outlook, in response to strong demand for camera bodies, we raised our unit sales projection by 100 thousand units, and now project full year unit sales to be 3 million units. We also raise our sales projection to reflect strong sales of lenses. In unison with this, we will also strive to maintain stable profitability by continuing efforts to optimize expenses.
Via Canon