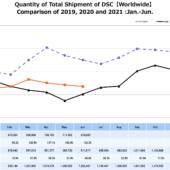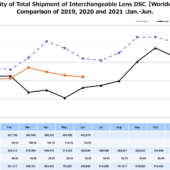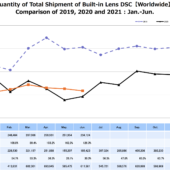 The June CIPA camera production data is out (orange: 2021, black: 2020, blue: 2019, click for larger view):
June 2021 CIPA numbers
June body shipments are slightly behind May, but well ahead of 2020, so we've lost a little ground year-over-year in bodies, but gained ground year-over-year in lenses. Mirrorless now has a 56% unit share of ILC's and a 76.1% shipped value share.
Based on the first six months and last year's shipping patterns, we predict a full year estimate of 7.33 million ILC units shipped compared to:
2020: 5.308 million
2019: 8.462 million
2018: 10.76 million
2017: 11.68 million
Canon has predicted a full fiscal year industry estimate of 6 million units and they claim they'll take 50% of that.
Note that Nikon will announce Q1 fiscal 2022 results August 5th, 3PM Japanese time.
June 2021 Calendar year-to-date (All comparisons to Jan-June 2020):
DSLR Units : 1226K +21% YTD
DSLR Shipped Value: ¥48.9 billion +13% YTD
Mirrorless Units: 1558K +55% YTD
Mirrorless Shipped Value: ¥156 billion +114% YTD
Compact Units: 1500K +0% YTD
Compact Shipped Value: ¥36.0 billion +12% YTD
Lenses for smaller than 35mm Units: 2620K +15% YTD
Lenses for smaller than 35mm Shipped Value: ¥38.5 billion +18% YTD
Lenses for 35mm and larger Units: 2185K, +64% YTD
Lenses for 35mm and larger Shipped Value: ¥118.4 billion +79% YTD
Cumulative YTD Mirrorless unit share (of Mirrorless + DSLR): 56% (was 49.8% Jan-June 2020)
Cumulative YTD Mirrorless Shipped Value share: 76.1% (was 62.7% Jan-June 2020)
The ratio of lenses shipped to bodies shipped is 1.73 for Jan-June 2021. It was 1.79 for Jan-June 2020.
List of participating CIPA companies can be found here.
Source: CIPA (thanks ZoetMB), via NikonRumors