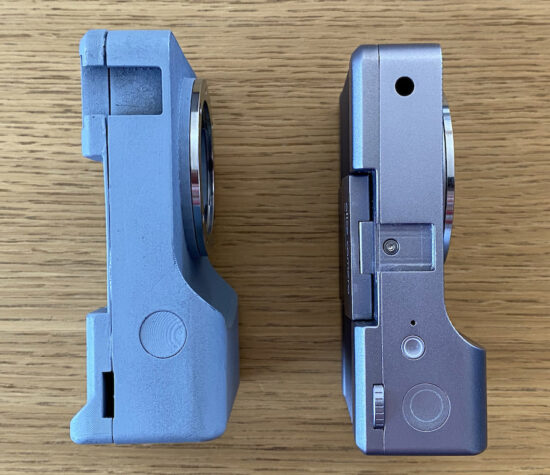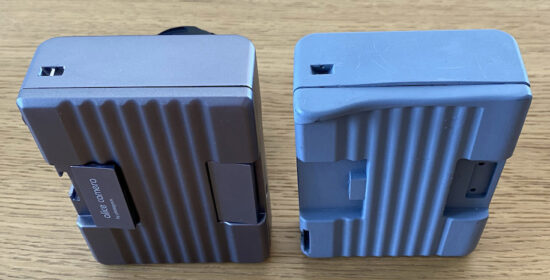 Some updates on the Alice camera project:
Update on the camera body and ergonomics
We've been working on the ergonomics of the camera based on customer feedback. The main change has been to add a thumb rest on the right of the camera, which makes the grip much more comfortable to hold, and provides a secure anchor point for your phone. The shutter button has also been repositioned slightly to make it more natural to press; the previous configuration was quite close to the edge and felt cramped. And, the cold shoe mount has moved to the end of the camera; the previous configuration in the middle of the camera was being blocked by the phone mounting mechanism.
Update on the mobile app
We've been developing the core user interface of the mobile app in more detail. You can view a dummy app at this link here and interact with some of the basic user experience. We're close to completing this into a functioning iOS and Android app and integrating it with our low-latency streaming and communications software running on the camera. We'll be providing more updates soon.
Update on our AI and computational photography pipeline
We've made great progress on our colour constancy and auto whitebalance algorithms that use deep learning to remove colour casts in images and to set the whitebalance correctly even in low light. We also released a demo of our AI autofocus algorithm which uses deep learning to understand what to focus on and how to focus on it. Finally, we released a demo of our novel AI colour enhancement algorithm which allows for locally-adaptive, context-dependent, frame-by-frame colour augmentation and replicates the effect of a skilled professional retouching your photos and videos on-device in real-time. We're working on an on-device denoising algorithm too and will be providing more updates soon.
Community engagement
Our community has been growing and engagement is high. We released a YouTube series called Conversations in Computational Photography, which are long-form videos where the team dives deeper into our technology and philosophy – you can view Episode 1, Episode 2, and Episode 3.