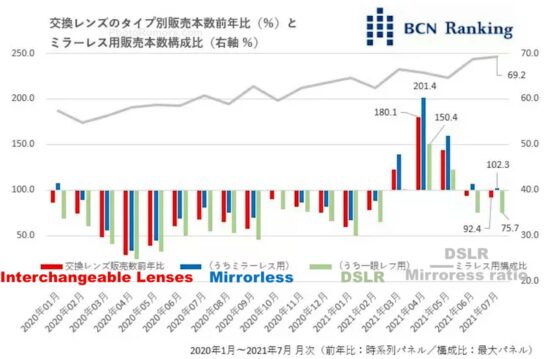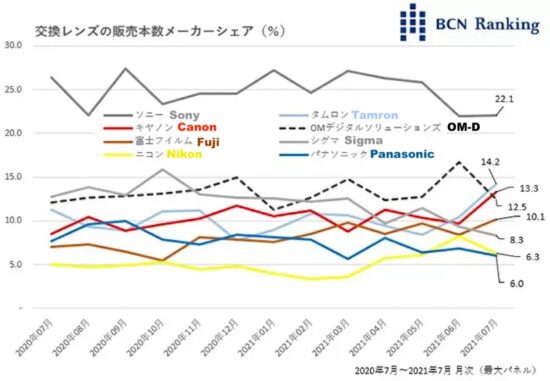 BCN Ranking published their latest sales data from Japan (click for larger view):
"In July 2017, the number of mirrorless cameras sold for the first time in interchangeable-lens cameras surpassed that of single-lens reflex cameras. As of July, mirrorless accounts for 79.8%. Interchangeable lenses have become mirrorless, slightly behind the body. In July 2019, the number of mirrorless lenses sold exceeded that for single-lens reflex cameras for the first time. As of July, it has expanded to 69.2%, which is 70%.

In terms of manufacturer share, Sony is the leader. E-mount lenses for mirrorless interchangeable-lens cameras are performing well, maintaining a stable high market share of over 20%. The average unit price is in the high 80,000 yen range, which is the highest level among major manufacturers and is performing well. Second place and below are fierce battles. As of July, Tamron, which has been increasing its market share due to the strong performance of Sony E-mount lenses, is in second place with 14.2%, and Canon is slightly behind with 13.3%. OM Digital Solutions (formerly Olympus ) of the Micro Four Thirds camp is in 4th place with 12.5%. In terms of market share by mount, Sony's E mount is the top with 30.6%. Next is Canon EF mount with 15.1%. Micro Four Thirds is 13.9%, followed by Nikon F mount at 11.6." (Via BCNretail, translated)
BCN Ranking collects real sales data from approximately 40% of the Japanese retailers – this is not a worldwide market share report.