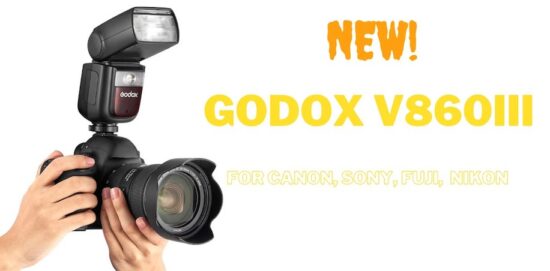 The Godox Ving V860III flash for Sony, Canon, Nikon, and Fuji is now officially released and is in stock at B&H Photo, Pergear, Amazon US, Amazon DE, and Amazon CA.
Godox Ving V860III flash key features:
Built-In X Wireless Radio System
Recycling 1.5 sec Full Power
Guide Number: 197′ at ISO 100
Battery Gives 450 Full-Power Flashes
Flash Coverage: 20-200mm
Wireless Master/Slave TTL Functionality
Additional information on the new flash can be found here:
Built-in Godox 2.4G Wireless X System: the V860IIIC/V860IIIS/V860IIIN/V860IIIF Built-in Godox 2.4G Wireless X System offers all-in-one functions, GN60 High Guide Number, and 20 to 200 Zoom Flash Coverage, Up to 100 Meters Transmission Distance. Optical transmission with even illumination and stable output.
Better Battery Performance: the Godox V860IIIC/V860IIIS/V860IIIN/V860IIIF is the upgraded version of Godox V860II, which features a new battery with a higher capacity(7.2V/2600mAh) offering 1.5s recycle time and 450full power flashes. The battery is also interchangeable with V1, making your potential pack lighter.
Fully Support TTL Functions: The Godox V860IIIC/V860IIIS/V860IIIN/V860IIIF is compatible with Canon, Sony, Nikon and Fuji cameras and is compatible with E-TTL II autoflash, Supporting TTL auto flash, manual flash, 1/8000 high-speed sync, flash exposure compensation, flash exposure lock,first-curtain sync, second curtain sync, modeling flash, etc.
Upgraded Functions: the Godox V860III Added a modeling light at the front to aid pre-visualization, and blend with ambient light, with brightness dimmable in 10 levels; Newly Added a quick button on the side to switch from manual mode to TTL mode quickly; Updated a quick release lock to a quick lever to lock the Speedlight into place on your camera's hot-shoe.
Master & Slave Flash: V860III as master flash to trigger speedlites e.g. 600EX-RT, 580EXII, etc in TTL or Manual mode; as slave flash to receive signals of speedlites e.g. 600EX-RT, 580EX II, ect and wireless commanders of pop-up flash on 7D, 60D, or 600d, etc.
The upcoming Godox V860III Speedlight already listed at B&H (available for Canon, Nikon, Fujifilm, and Sony)
New Godox Ving V860III flagship lithium-ion speedlight to be announced soon
Via FujiAddict