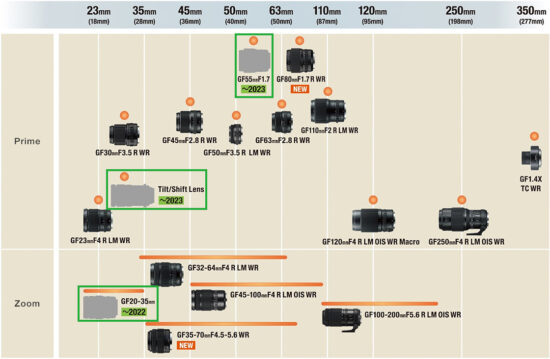 In addition to the new cameras and lenses, Fujifilm also updated their G and X lens roadmaps (click for larger view):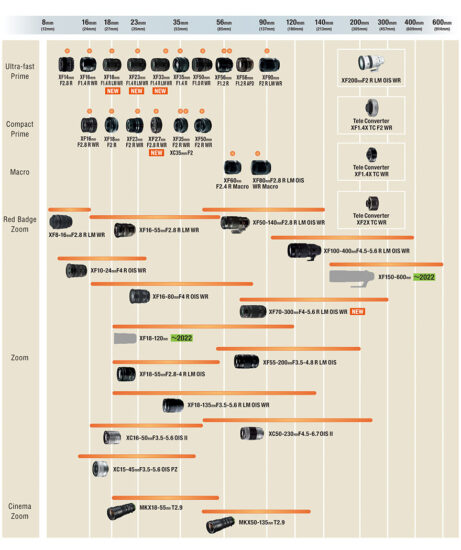 The new lenses added to the roadmap are:
Ultra-wide-angle zoom lens
This zoom lens covers the focal length from 20mm (equivalent to 16mm in the 35mm format), the widest angle among GF lenses, to 35mm (equivalent to 28mm in the 35mm format). It achieves edge-to-edge sharpness, capturing the finest details of subject in incredible clarity. The ultra-wide angle of view can bring vast expanses of background scene into the frame for dynamic photographic expression.
Large-diameter standard prime lens
This is a large-diameter standard prime lens with the focal length of 55mm (equivalent to 44mm in the 35mm format). It achieves an ultra-bright maximum aperture of F1.7, the same as the FUJINON Lens GF80mmF1.7 R WR, released in February this year. When combined with a large-format sensor's ability to deliver a shallow depth of field, the lens renders the background beautifully out of focus to creamy bokeh.
Tilt & shift lens
This lens incorporates a tilting mechanism that gives the ability to adjust the focal plane as intended, as well as a shifting mechanism that corrects image distortions that arise for example when shooting tall architecture. This makes it a perfect choice for advertising and other commercial photography, meeting the needs of professional photographers.
Today, Fujifilm has announced the launch of the FUJINON Lens GF35-70mmF4.5-5.6 WR – this is the 17th lens in the lineup, including three lenses unveiled in the new roadmap.