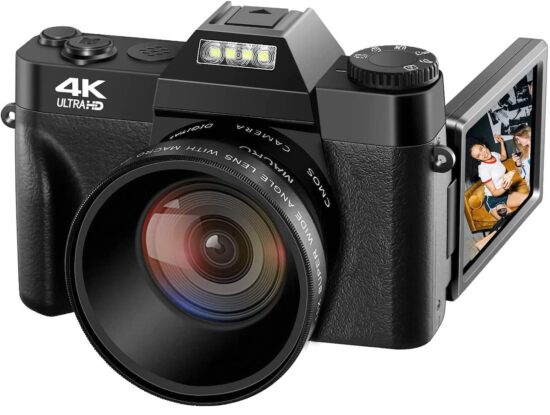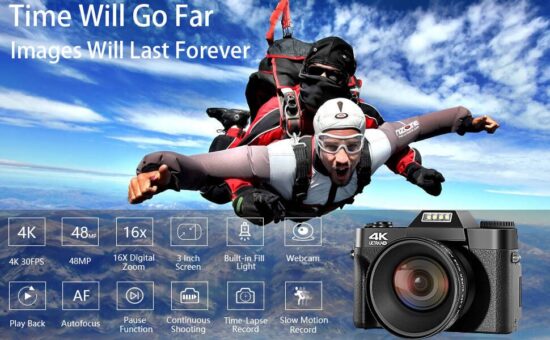 Amazon is selling this Vjinger 48MP 4k autofocus digital camera for $119. Here are the detailed specifications and in case you are wondering they also mention that this is "not a professional camera, professionals are not recommended to buy":

48 Megapixels Bring up Great Stills Quality Pictures
We love a good camera phone. However, they're not going to do your every trip justice like a premium compact digital camera could.This digital camera come with a new 48 Megapixel sensor make it have larger sensors than camera phones.Even cameras that use a comparatively smaller sensor have a good deal more surface area to work with than a smartphone sensor. This makes them not only can bring up great stills quality pictures ,but also much better for shooting in low light, as they can capture greater dynamic range of more detail in highlight and shadows.
4K Video Resolution
Many vloggers will record and upload in 1080P FHD rather than 4K, but 4K enables you to crop into and reframe your video and still output them in 1080P. So going forward it really will be the norm. So we recommend vloggers to use this newly upgraded 4K video resolution digital camera to make your travel vlog videos.
16X Digital Zoom & Autofocus Make the Distant Subjects Clear
The other main advantage of digital cameras over smartphones is that they can make use of an digital zoom fixed lens, and come with autofocus function making it much easier to get pin-sharp images of distant subjects. This dramatically improves your shooting versatility, and the different types of shots you can get.
180° Roating LCD Screen Easy to Take Selfies
A fully articulating can flip round to the front screen enables you to see yourself while you're filming, to ensure that your framing is right and that you are in focus. It often gets little play in camera reviews, as it may seem trivial to most photographers, but for vlogging it's an essential.
Expandability Options
External Stereo/Shotgun Microphone Port:This enables you to dramatically improve the sound quality of your content. Better sound is one of the single best ways to make your videos feel more professional.
External Tripod Port: Equipped with 1/4 standard size tripod port on the bottom. Free your hands and make recording more free.
External Flash Hot Shoes: Despite the built-in fill light, You can also match the RGB camera light (not include) on the hot shoe for different types of creative shooting lighting scene. Special effects offer more options for video, photography, advertising, movies and sports events.
Additional information is available on the Amazon product listing.