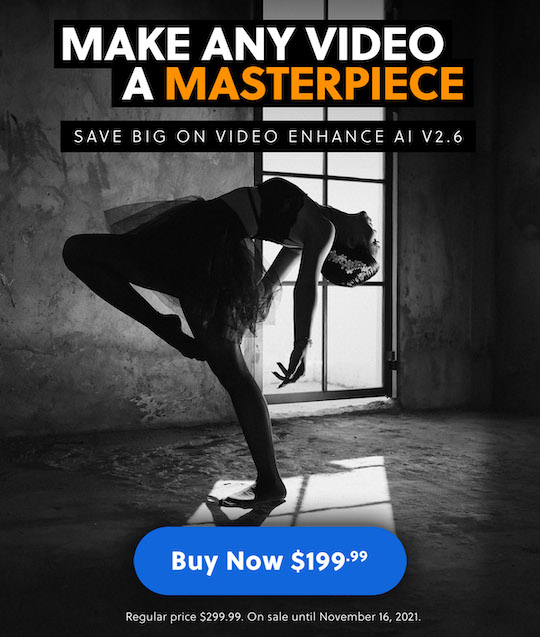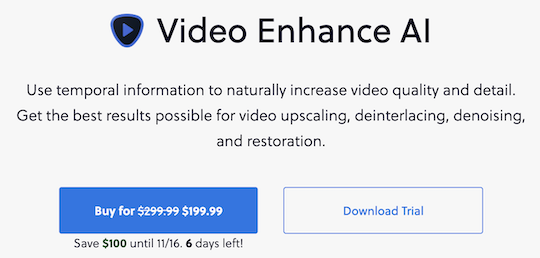 Today Topaz Labs released Video Enhance AI version 2.6 with faster, improved AI models and native Apple M1 support. With the new Video Enhance AI you can upscale and enhance any video clip. Topaz Labs Video Enhance AI is now $100 off until November 16. You can use coupon code RUMORS15 for an extra 15% off.
Here are the main Topaz Labs Video Enhance AI v2.6 features:
Native Apple M1 silicon support – Experience a 20-30% performance boost compared to the previous version that required Rosetta emulation.
New Chronos Fast AI model – Built for high-resolution video clips with fast motion, delivering 2-3x faster performance than the current Chronos v2 AI model.
New Proteus, Artemis, and Dione AI models – Optimized to be about 30% faster on Windows computers while providing improved quality compared to previous models. Refinements to these AI models also increase video quality compared to previous versions.
Lots of usability improvements and bug fixes – We've made many improvements to our AI engine for improved speed and stability across a wider range of hardware, as well as including several helpful usability improvements.