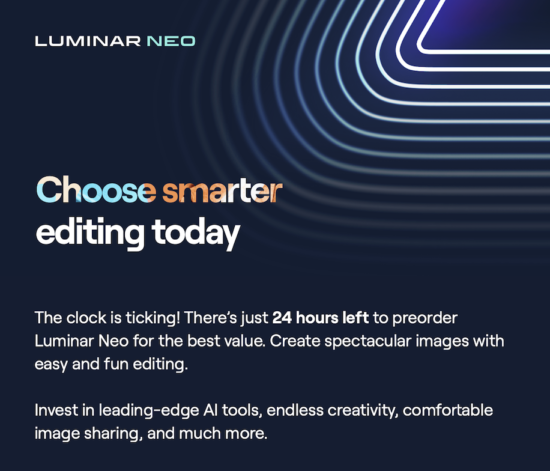 The pre-order offer from Skylum on the new Luminar NEO will end tomorrow:
Here are some of the new Skylum Luminar NEO features:
Layers let you effortlessly combine two or more images and manipulate them to achieve your desired effect.
Portrait Background Removal AI allows you to remove an unwanted background from your portrait in seconds thanks to AI.
RelightAI is a tool for controlling the light in your photos based on image depth as determined by AI, allowing you to easily and effortlessly fix photos that need fill lighting.
MaskAI allows you to easily detect and select elements of your photo for precise control over how tools are applied.
Sky Enhancer AI:  Precisely adjust the color and exposure of the sky and clouds.
AccentAI: Balance exposure and color before RelightAI to create appealing contrast.
Portrait BokehAI: Adjust the depth of an image and control background blurring.
New Luminar Neo engine in the background
Dust Removal AI: Lens or sensor let you down? Automatically remove evidence of lens and sensor dust from your photos.
Line Removal AI: Line Removal AI gives you perfect pictures with zero effort. Remove unwanted powerlines from skies and put more focus on your subjects just in one click.
Overlays: Luminar Neo includes built-in overlays and object libraries which allow artists to start creating layered compositions right out of the box.
Luminar Share: Luminar Share allows you to easily transfer photos edited in Luminar Neo from desktop to mobile and share them to your social channels quickly and easily.