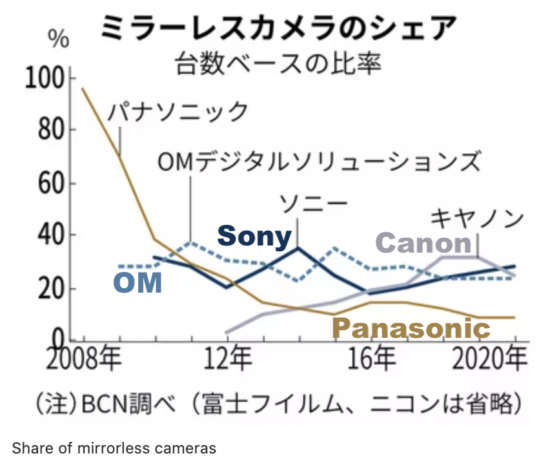 Nikkei published a new article about Panasonic's camera business being at a critical moment – here s a brief recap (Google translated):
Panasonic, which once created the world's first mirrorless interchangeable-lens camera, is suffering from a slump in market share. "I regret that I was looking at the manufacturer until now. Before I knew it, I was obsessed with (manufacturing) the camera." Akira Toyoshima, General Manager of Entertainment & Communication Division of Panasonic, told interviews with Nikkei Business and others in mid-December 2009. Panasonic market share dropped to 8% in 5th place.
Ichiro Michikoshi, Chief Executive Analyst of BCN, said, "The Micro Four Thirds standard developed by Panasonic is one of the causes of the struggle." If the sensor is small, the camera itself can be easily miniaturized, but there is also the drawback that it is difficult to increase the number of pixels. Sony and Canon have made the number of pixels of 30 to 40 million units mainstream with larger sensors.
Ymcinema talks about Panasonic abandoning the cinema camera lineup
Japanese website reports that Panasonic may also exit the camera business just like Olympus
Source: Nikkei, via Digicame-info.