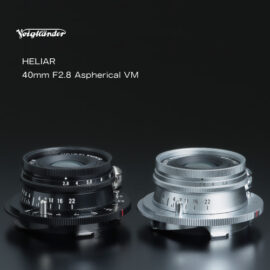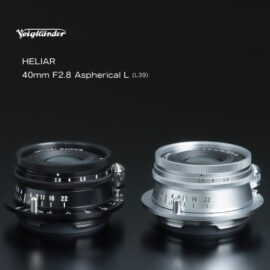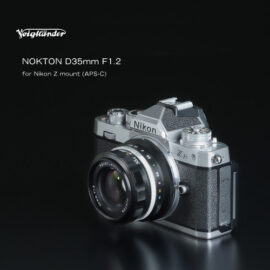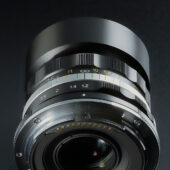 The previously rumored three new Voigtlander lenses are now officially announced. Here are the details:
Voigtlander HELIAR 40mm f/2.8 Aspherical lens (VM and L39 versions)
Today, our company announced the HELIAR 40mm F2.8 replacement lens for VM mount and L (Licas screw mount).
HELIAR 40mm F2.8 Aspherical VM / L(L39) is a compact semi-wide angle lens composition based on a foktender traditional helia type. With the latest optical design and the use of non-spare lenses, the filter is φ34mm and small, the full length of the product from the mount surface is 21.2mm (VM), 20.2mm (L39). The retro style exterior is extremely compact and is a lens with mobility as a snap shooter, owned by a rangefinder camera, and with a beautiful exterior design.
The shortest shooting distance is 0.7m, it features a vintage lens-free drive stroke that uses this style of rotating helicoids, and the design that does not have a hericoid exposure to the outer surface of the lens during the shortest distance shooting, and features a structure that focuses on external environments such as clouds. The Focus Lever also features a vintage lens-like infinity-position lock mechanism, which will help you with fishing rings or lens removal.
Lens mounts are available in 2 types of VM and L(L39).
The VM mount is a Leica M mount compatible mount, a bright frame with a 50mm lens camera with a rangefinder camera that automatically identifies the fitted lens by a mechanical connection.
The L mount is equipped with a φ39mm screw mount, so you can enjoy taking photos with a rangefinder camera with a synonymity-eastern rangefinder camera.
The exterior material has both beads on both mounts, and the finish has two black paint and silver. Black paint model finish black to mount, focus rock button focus lever and infinity short stoper accents the design with a nickel-plated finish. All lenses come with aluminum custom twisting hood and aluminum twisting front cap. (Black paint type comes with a painted hood and a front cap. )
Expect Retail Price – JAN
HELAIR 40mm F2.8 Aspherical VM Silver
Retail Price ¥74,800 (tax included)
JAN 4530076 132603
HELAIR 40mm F2.8 Aspherical VM Black Paint
Retail Price ¥78,100 (tax included)
JAN 4530076 132610
HELAIR 40mm F2.8 Aspherical L(L39) Silver
Retail Price ¥74,8300 (tax included)
JAN 4530076 133013
HELAIR 40mm F2.8 Aspherical L(L39) Black Paint
Retail Price ¥78,100 (tax included)
JAN 4530076 133020
Voigtlander NOKTON D 35mm f/1.2 lens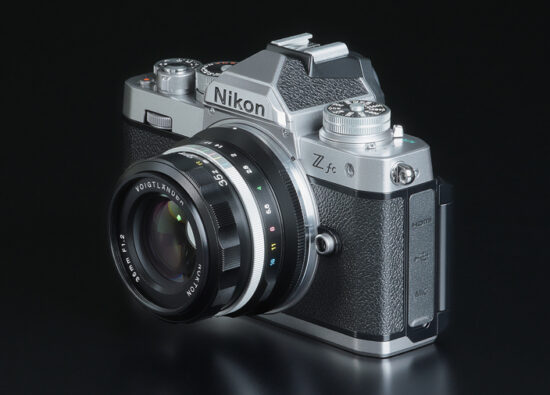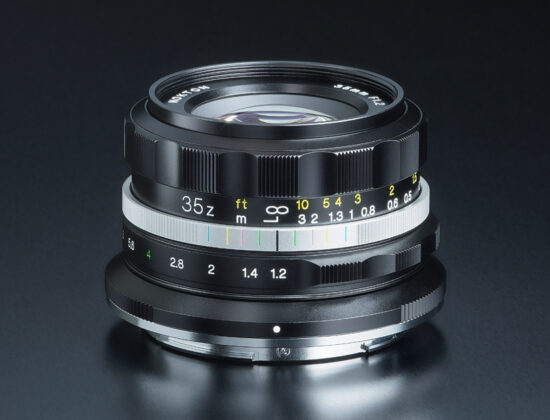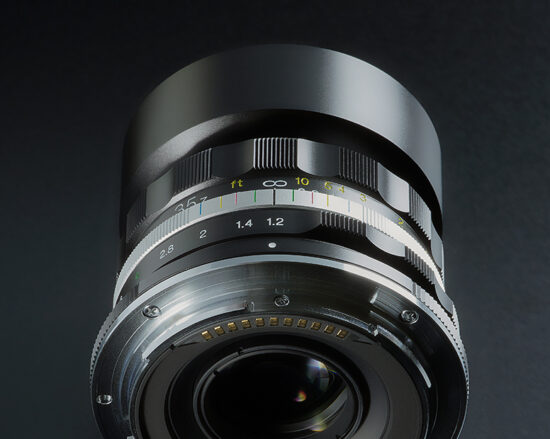 NOKTON D35mm F1.2 is a large-mouth manual focus standard lens covering APS-C-sized image circle, optical design is optimized for mirrorless camera image sensors using a Nikon Z mount.
The main lens conceals electronic connectivity and realizes electrical communication between the lens and the body. With the combination of electronic communication-supported body and latest farm wear, it supports Exif information, including body inner hand correction (3 times), it supports 3 different pin-match support functions (pint-matching by focus point color change, pin-matching by peaking function, and pin-match by large button).
Lens composition is a traditional double gauce shape. F1.2's large mouth-watering "8-fold" style, which consists of all lenses that are mostly placed to the left and right target. It has a stable image even when it's open and open, and you can enjoy a soft and large Boke flavor.
The fence is a 12-second-step click with a 3-step click of a 12-second composition distributed to the shape of a boke. The focus rings and hanging rings are made of steel metal, featuring a large-finger chain and a roulette pattern with a precise stamp processing. This design features a beautiful look reminiscent of the good old days and functionality that improves the sense of manual operation, and the design that compares to the style of the SL series replacement lens of the Urawa 40s (1965-1974) with a homage to the one-eye reflex replacement lens, you can enjoy the silky pint-matching fabricated by steel metal helicoidring.
The shortest shooting distance is 0.3m (1:6.7). In addition to being able to capture various subjects as a standard lens of a 44° dialog angle angle, there is a possibility of shooting with a large amount of boke due to close-up effects and using the bokey taste in the open. It also has a large mouth-watering filter φ46mm, total length 41.0mm, weight 230g and compact, it is also a special length that is easy to return. Comes with a custom-style metal-made hood with a custom-made screw.
*Please use the latest F/W if your body and FWs are not able to perform performance or there may be limitations on some functions.
For more product information, please check the URL below.
Expect Retail Price – JAN
NOKTON D35mm F1.2
(Z mount for Nikon)
Retail price ¥91,300 (tax included)
JAN 4530076 235014