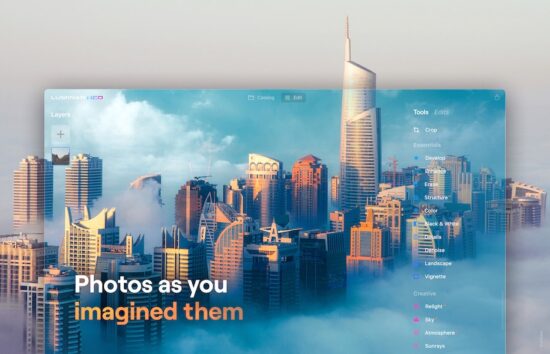 Today Skylum officially released Luminar Neo AI-driven photo editor (see previous coverage). The Luminar engine was built from the ground up – it uses artificial intelligence to analyze photos and perform AI-driven editing:
RelightAI builds a precise 3D Depth Map of the 2D image to provide quick, targeted control of scene lighting, allowing artists to:

Independently adjusting lighting and color warmth for far and near objects across the scene.

 

Help easily fix portraits where the foreground subject is underexposed.

 

RelightAI isolates problem areas for correction, leaving the rest of the image untouched. Combine RelightAI with other scene aware tools and photographers can precisely adjust the lighting of any photo.
Remove Dust Spots – Automatically identify and seamlessly remove small artifacts, like dust spots, from every photo with the help of AI.
Remove Power Lines – Uses AI to automatically identify and effortlessly remove power lines from landscape photographs to create a pristine image free from clutter.
Layers – Combine different images into unique compositions and include new elements from built-in overlays and object libraries.
Presets – Instant style changes designed by professional photographers of every stripe. Or, build and save your own unique looks for reuse on future shoots.
Performance Gains* – Luminar Neo is significantly faster than LuminarAI for complex photo editing tasks. Driven by the new Luminar engine, artists can now enjoy the following performance gains.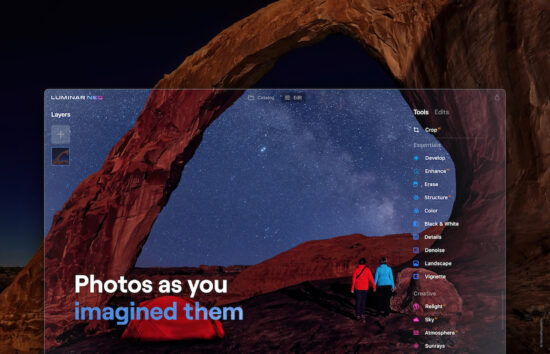 There are several subscription and license options, including a limited offer valid until March 3:
1-year subscription
Luminar Neo 1 seat for $59
Luminar Neo 2 seats for $79
Lifetime license
Luminar Neo 1 seat for $79
Luminar Neo 2 seats for $99
Lifetime license offer for users who own Luminar or Aurora
Luminar Neo 1 seat for $59
Luminar Neo 2 seats for $69
Subscription includes
All future updates
All new feature add-ons
Workflow designed for creative phot editing
Unique AI tools to simplify repetitive tasks
Builtin library of Textures & Overlays
30-day money back guarantee
24/7 technical support
Lifetime license includes
Update with AI Masking and Portrait Background Removal
Performance and stability updates
Workflow designed for creative photo editing
Built-in library of Textures & Overlays
Unique AI tools to simplify repetitive tasks
Lifetime license
30-day money back guarantee
24/7 technical support
Upcoming features:
Mask AI — Smart AI-based masking that detects specific elements in an image
Portrait Background Removal AI — Smart AI-based removal of the background behind a portrait without manual masking
Histogram
Clone & Stamp
Dodge & Burn
Undo and Redo
More Hotkeys
Copy and Paste functionality for Adjustments
More functionality when using Masking (Copy/Paste, Pen Pressure for Radius/Opacity, and Linear/Radial gradient)