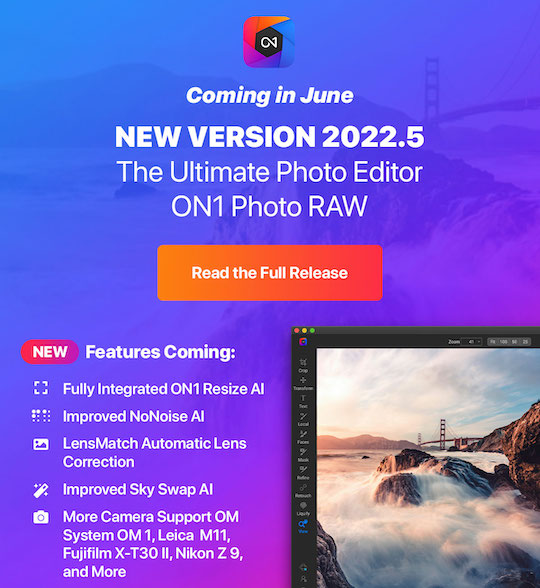 Today ON1 announced Photo RAW version 2022.5 that will be released in June. This is a major update that includes several new features and enhancements including the full integration of ON1 Resize AI into Photo RAW and support for the latest R5C, GH6, OM-1, M11, X-T30 II, and Z9 cameras:
Here are the key features coming in version 2022.5:
Full Integration of ON1 Resize AI — ON1 Resize AI, the next-generation photo enlargement software, gives photographers the highest quality photo enlargements. This all-new super-resolution technology allows any photographer to enlarge photos while quickly maintaining and recovering an incredible amount of detail and sharpness.
Batch Upscaling – Open multiple photos at once, or an entire folder. Easily adjust and sync settings across multiple photos. Then use Export to control the destination, naming, filetype, etc.
Print Ready — With the power of Resize AI built into ON1 Photo RAW, photographers can now prepare entire gallery shows in one step. Crop, resize, sharpen, and print to any size all at once.
Enhanced NoNoise AI in Non-raw Files – When working on non-raw photos such as JPG, TIF, or PSD files, the results have been much-improved, with quality closely matching the raw models.
New and Improved Lens Correction — The new LensMatch automatic lens correction can detect and remove distortion when shooting raw with camera-maker matched lenses. This does away with the need for external lens profiles for many users. Lens correction can also remember user manual profile adjustments so they can be used as the defaults for a lens.
Better Masks in Sky Swap AI – The masks produced from Sky Swap AI have been improved around trees and with white skies
New Camera Support – Added support for the Canon EOS R5C, Panasonic Lumix DC-GH6, OM System OM-1, Leica M11, Fujifilm X-T30 II, and Nikon Z 9.


Here is a list of the all of the new features released in version 2022 so far:
Liquify Tool
Advanced Search
Smart Albums
Snapshots
Crop Tool Presets
Visualize Dust When Retouching
Topographic Map
Many Performance Improvements
Improved Sky Swap Masks
Cameras and Lenses
Sky Swap AI
Time-Lapse Creation
Integration of ON1 NoNoise AI
Photoshop Plugin Host
Retooled Export
Line Mask Tool
Backup and Restore
Favorites in Browse
Customizable Thumbnails
Gesture Support
Apple Silicon Native
15% off TopazLabs products with code RUMORS15
10% off ON1 products with code NIKONRUMORS
$10 off Skylum products with code PHOTORUMORS