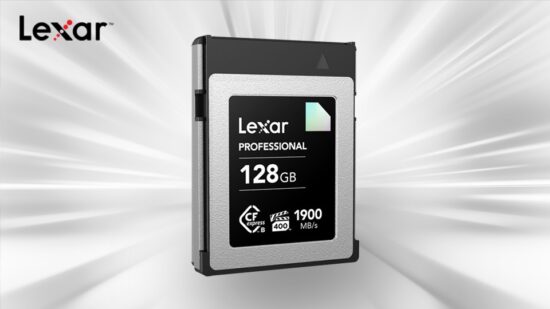 At the Optic 2022 show, Lexar introduced "The World's Fastest CFexpress Type B Card Diamond Series". Pre-orders for the new memory cards are already open exclusively at B&H Photo: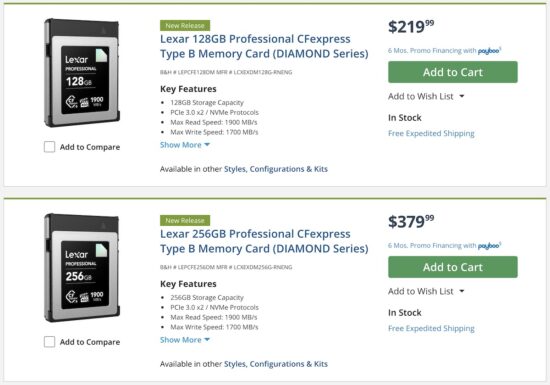 See also the full article on the upcoming Lexar Diamond Series CFexpress Type B memory cards at Explora: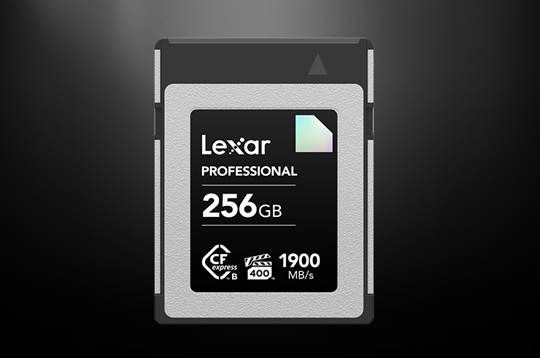 Available in capacities of either 128GB or 256GB, this card utilizes the PCIe 3.0 x2 / NVMe protocol to deliver a serious maximum read speed of 1900 MB/s, a maximum write speed of 1700 MB/s, and minimum sustained write speeds of 1600 MB/s. It also supports the VPG-400 video class standard, which guarantees write speeds won't drop below 400 MB/s. It is also resistant to shock, vibration, and temperature, and is backward compatible with select XQD devices. To round things off, protection is provided by a limited lifetime warranty.
Check also the new product presentation here:

Here is the full press release from Lexar: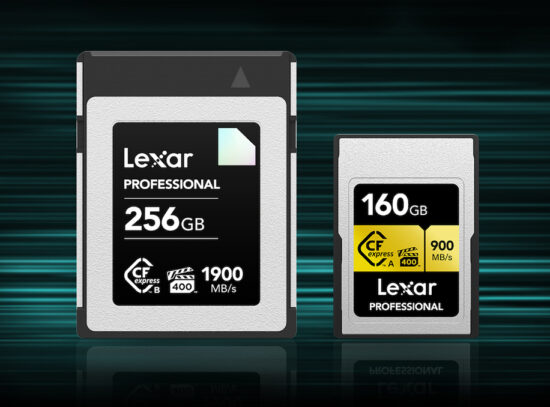 LEXAR UNVEILS THE WORLD'S FASTEST CFEXPRESS TYPE B CARD DIAMOND SERIES and CFEXPRESS TYPE A CARD GOLD SERIES
San Jose, USA, April 25, 2022 – Lexar, a leading brand of flash memory solution, proudly unveils the world's fastest Lexar® Professional CFexpress™ Type B Card DIAMOND Series and Lexar® Professional CFexpress™ Type A Card GOLD Series at the National Association of Broadcasters (NAB) event this week in Las Vegas, Nevada.

From field to post production, Lexar aims to provide our users products that offer unmatched quality, performance, reliability and compatibility to dramatically accelerate workflow from start to finish.

To meet the demand of high-performance memory solution needed for professional filmmakers and content creators, the Lexar® Professional CFexpress™ Type B Card DIAMOND Series provides unmatched read speeds of up to 1900MB/s, dramatically accelerating your post-production workflow for enhanced productivity. And with blazing-fast write speeds of up to 1700MB/s1, quickly capture smooth RAW 8K, 6K and 4K video with ease. It is also backwards compatible with select XQD® cameras2.

Designed to leverage the capabilities of next-gen cinema cameras and mirrorless camera adopting the CFexpress™ Type A format, Lexar also unveils the Professional CFexpress™ Type A Card GOLD Series. Featuring superior speeds of 900MB/s read, and 800MB/s1 write, this card allows you to capture high-quality images and seamless 8K, 6K and 4K video. Lexar will also launch the CFexpress™ Type A Reader, which supports ultra-high-speed USB 10Gbps transfer protocol via USB Type-C®, in the coming months.

The cards support VPG 400 specification which guarantees a minimum sustained write speed of 400MB/s to capture professional-quality video for compatible host devices. Designed specifically for professional video users, it also ensures that your content is captured seamlessly with no drop frames. Moreover, they are built with the rugged durability you need to capture content even in the harshest of conditions. The cards are designed to be shock and vibration-proof, and resistant to extreme temperatures3. And, for added peace of mind, both cards are backed by a Lifetime Limited Warranty4.

"Lexar has a long history of providing industry leading memory solution for professional users and we are excited to continue this tradition with the world's fastest Lexar® Professional CFexpress™ Type B Card DIAMOND Series and Lexar® Professional CFexpress™ Type A Card GOLD Series. These cards will dramatically help professionals speed up their workflow while providing the quality, performance and reliability they've come to expect from Lexar." said Joel Boquiren, General Manager of Lexar.

Lexar® Professional CFexpress™ Type B Card DIAMOND Series and Lexar® Professional CFexpress™ Type A Card GOLD Series are under development and will be available in Q2 2022.

Lexar is exhibiting at this year's NAB Tradeshow held at the Las Vegas Convention Center, Las Vegas, NV, from April 24th – 27th.

1Speeds based on internal testing. Actual sustained speed may vary depending on host device
2Compatible with firmware enabled CFexpress™ cameras
3Temperature-proof: Withstands operating temperature range from 14ºF (-10ºC) to 158ºF (70 ºC) and non-operating temperatures from -4ºF (-20ºC) or 185ºF (85 ºC).
Shock resistant (50[G], 11[ms] / half sine wave.Apply the above impact 3 times from each of 3 orthogonal directions.)
Vibration resistant (10[Hz] to 2000[Hz] to 10[Hz], Sweep time: 20 minutes. 12 cycles per axis, (36 cycles for 3 axes) , Test time: 12[hr]).
4 Limited lifetime warranty is limited to 10 years from purchase in Germany and regions not recognizing lifetime warranty