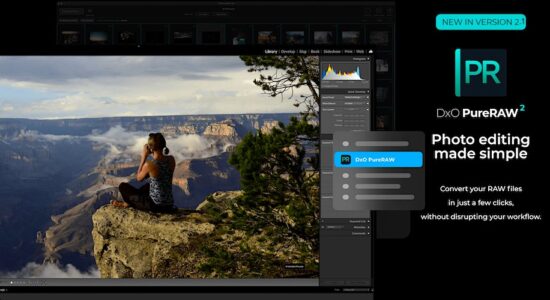 DxO released PureRAW version 2.1 with support for Apple M1/M2 chips and the latest cameras and lenses (Canon R7, R10, OM-1, Leica M11, and more – see all supported cameras and lenses). Here is what's new (the full release notes can be found here):
Improvements:
Output File Naming – Now users can add custom prefixes and suffixes to the output file names.
Optical Correction Section – Redesign of optical correction section for improved user experience.
M1 Native Support – Application runs natively on Apple's M1.
Bug fixes:
Fixed: DxO PureRaw 2 crashes when processing a large number of image files
Minor Bug Fixes
New supported cameras:
OM System OM-1
Parrot ANAFI
Parrot ANAFI Ai
Panasonic GH6
Canon EOS R5C
Leica M11
Canon EOS R10
Canon EOS R7
New supported lenses
Canon RF-S 18-45mm F4.5-6.3 IS STM
Canon RF-S 18-150mm F3.5-6.3 IS STM
OM SYSTEM EZ-M 12-40mm F2.8 Pro II
OM SYSTEM EZ-M 40-150mm F4.0 Pro
Panasonic Leica DG Summilux 9mm F1.7
Panasonic Lumix S 35mm F1.8
Sony FE 400mm F2.8 GM OSS
Sony FE 400mm F2.8 GM OSS with SEL TC1.4x
Sony FE 400mm F2.8 GM OSS with SEL TC2x
Tamron 18-300mm F3.5-6.3 Di III-A VC VXD (B061)
Tamron 17-70mm F2.8 Di III-A VC RXD
Via LeicaRumors