Nikkei published an article on the future of compact cameras. Here are a few quotes from the different camera manufacturers:
Panasonic
Panasonic Holdings has been scaling back its model offerings in Lumix compact digital cameras, which debuted in 2001 and enjoyed high spots in domestic rankings at one point. The company has not released any new product for the price range below 50,000 yen ($370 at current rates) or so since 2019 and has no plans to develop a low-priced model going forward. "We've halted developing any new models that can be replaced by a smartphone," a spokesperson said.
Nikon
Nikon has suspended development of new compact models in its Coolpix line. It now offers just two models with high-powered lenses but it is "closely monitoring market trends" to determine production volumes going forward, according to an official.
Fujifilm
Fujifilm has discontinued production of its FinePix compact cameras and will develop only the X100V series and other pricier models.
Canon
Canon has not released any new Ixy cameras since 2017. But the company acknowledges that "entry-level models continue to enjoy persistent support, so we'll continue development and production as long as there is demand."
Sony
Sony Group has not offered any new compact models under its Cyber-shot brand since 2019, although a spokesperson said that "it's not that we'll stop developing new products."
Casio
Casio Computer halted production of Exilim cameras in 2018. (via Nikkei)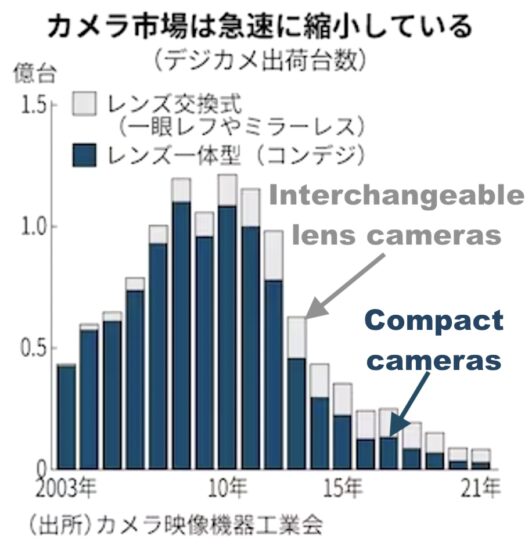 The one company Nikkei did not mention is Ricoh which has a very successful GR compact camera line:
The latest Japanese compact digital cameras segment market share
It seems that Ricoh will be the only company in the future that will continue to make compact cameras (GR) and DSLR cameras (Pentax).
The latest CIPA (Camera & Imaging Products Association in Japan) compact camera production data can be found here: