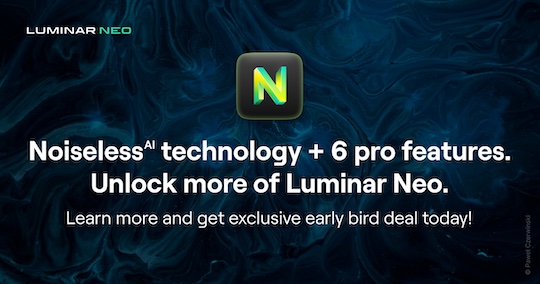 Skylum will release 7 new extensions for Luminar Neo, the first one Noiseless Ai is already available (use code RUMORSNEO for $10 off).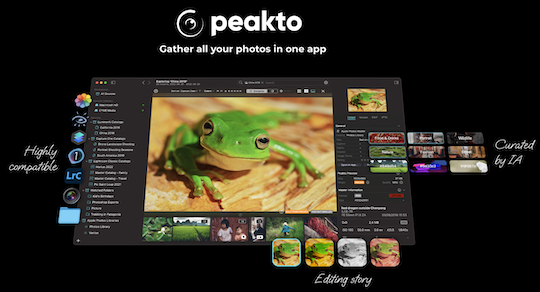 Cyme released Peakto version 1.0.5 – here is what's new (Cyme also makes the popular Avalanche migrating tool):
Ingestion of image folders is now up to 10x faster and usesCPU resources more efficiently.
Performance improvements across the board when ingesting new data (benchmarks available).
Performance improvements when using Panorama and navigating in the app.
Huge performance and efficiency improvements when computing Instants.
Performance lag in ingested folders fixed.
New option to re-ingest sources: Full or Smart.
Fixed issue of random missing images when ingesting compressed 14-bit images (Nikon RAW in particular) into C1 catalog.
Fixed a rotation bug that occurred intermittently when displaying portrait images.
Improved onboarding with better clarity to our privacy policy.
Improved end user license agreement (EULA) and legal sections of documentation.
What is Peakto?
Peakto is able to synchronize with all major photo cataloging and editing software, with files stored in the cloud as well as on hard drives, to offer a centralized view and research on all photos. Its artificial intelligence is able to curate all the pictures, thanks to image recognition, no matter what hard drive they are stored on or editing software they are integrated in. Photographers no longer need to annotate or classify their photos. Peakto does it for them and expeditiously reveals the treasures hidden in their digital files.

Peakto syncs with files and folders, as well as Apple Photos, Lightroom Classic, Luminar AI/Neo and Capture One editing applications. Peakto is also compatible with formerly popular but now unsupported software like Aperture and iView Media, making it possible for the newest macOS versions to access older photo catalogs. Peakto can also automatically gather all the variations of a photo and its original file, whatever the editing software used. Peakto allows photographers to find their originals and to trace the history of their modifications.