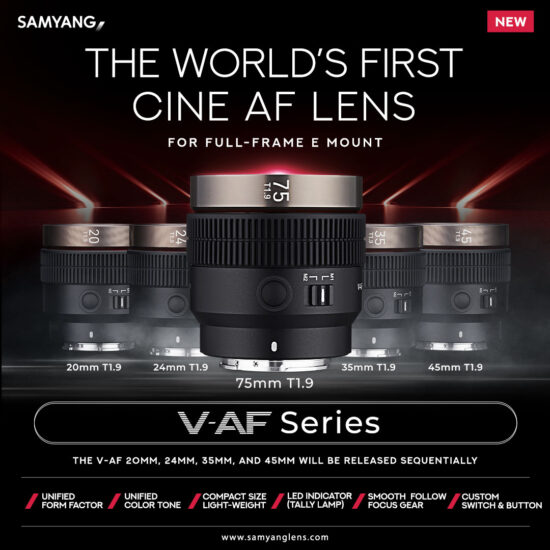 The previously rumored Samyang V-AF 75mm T1.9 full-frame cine lens for E-mount is now officially announced:
Additional information/key features:
Unified Form Factor – Compact & Light: Compatibility with gimbals and drones by applying the unified form factors with its 5 different focal lengths (Ultra-Wide to Medium-tele). By providing a compact size of 73 X 70mm and a light-weight of less than 300g, there is no need to re-set the equipment when changing the lenses.
Tally Lamp – Excellent usability: The lamp located on the front and mount index helps the user to check whether a video is recorded or not while shooting.
Support 8K and the same color tone: Supports resolutions up to 8K in a small and lightweight form as well as color-matched to avoid shifts when swapping lenses.
Custom Switch & Button: Features the 'Focus save' function usually in professional cine equipment and custom mode that adds function by firmware, which provides video specific functions for students and amateur users who dream of cinematographers.
Samyang is planning to release more V-AF lenses:
Samyang V-AF 20mm T1.9 (Q4/23)
Samyang V-AF 24mm T1.9 (Q4/22)
Samyang V-AF 35mm T1.9 (Q4/22)
Samyang V-AF 45mm T1.9 (Q2/23)
Samyang V-AF 75mm T1.9 (Q3/22)