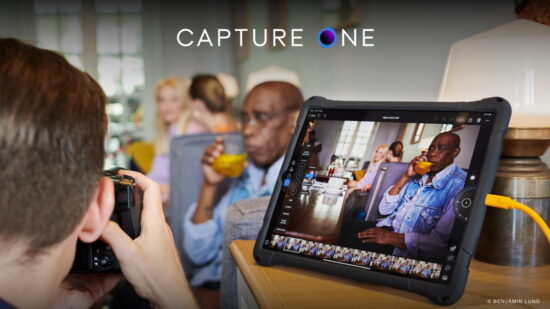 Capture One introduced tethering for iPad (including wired and wireless tethering). Here are the details (C1 is available at Amazon and B&H Photo):
COPENHAGEN, September 22nd, 2022: Capture One has recently announced a new update for Capture One for iPad that brings Capture One's acclaimed tethering capability to iPad for the first time, wired or wireless. ​ With immediate availability, this significant update brings the most requested Capture One for iPad feature to the world's definitive tablet computer, creating an unparalleled mobile photography workflow.
With this new addition, Capture One for iPad lets photographers access the full power of the company's renowned image quality and rendering directly from the camera, without the need for memory card readers, adapters, or go-between computers. Users can also expect to enjoy a high level of function and speed parity with Capture One for desktop, though with a mobile-specific interface that makes for a tailored and superior experience on iPad that is not just a replica of the desktop workflow.
"Since its launch in June, Capture One for iPad has been a big hit with our customers. The lightweight and portable form factor of the iPad gives photographers huge flexibility to set themselves up wherever they need and get from shoot to final image super efficiently, with the superior colour quality they're used to from Capture One.
​​
​We are now very proud to bring the fastest, most stable and most reliable tethered photography to the iPad, whether you're using a traditional cable or the mind-blowing wireless experience." – Rafael Orta, CEO, Capture One.
Capture One for iPad has been designed and built to take advantage of iPad to its full potential, including gestures and touch interactions, and users can now capture RAW files directly into iPad, batch edit, apply styles, and share their work with creative teams, client, and online in real-time, anywhere.
"We're really excited about our journey so far with Capture One for iPad and even more excited about our future plans. ​ Optimizing our codebase to take full advantage of the advances in Apple architecture means that we can provide high performance with a beautiful, tactile and intuitive UI wrapped around our image and color engine.
​​
​Bringing our history of building the best tools for tethered photography to the iPad was an inspiring challenge, we delivered support for cameras on par with Capture One Pro, exciting new capabilities like multi-camera tethering and our future plans include live view and camera controls." – Rafael Orta, CEO, Capture One
What's New:
You can now shoot tethered directly via USB cable or Wi-Fi
Remotely trigger a capture from your iPad with our first shutter button iteration
Automatically apply the same adjustments to all tethered photos by enabling the "Next Capture Adjustments" toggle
Change the Fujifilm simulation of your Fujifilm RAW files from the dedicated tool
Export Originals and TIFF files
Use Auto Adjust to quickly edit your images
Change the Wheel and "Quick Edit" sliding directions in the app's Gestures & Shortcuts section within the Settings page
Get tips on how to use the gesture interactions with a new Onboarding view
Other bug fixes and improvements.
Pricing:

Capture One for iPad (app): $4.99 per month:
Including access to Cloud File Transfer (up to 1000 photos stored in the cloud at any given time, and the number of transfers is unlimited)
Capture One Pro 22 is available as a perpetual license or subscription:
Capture One Pro 22:

Perpetual License: $299
Upgrades from select previous generations starting at $159
Subscription starting at $20 per month month