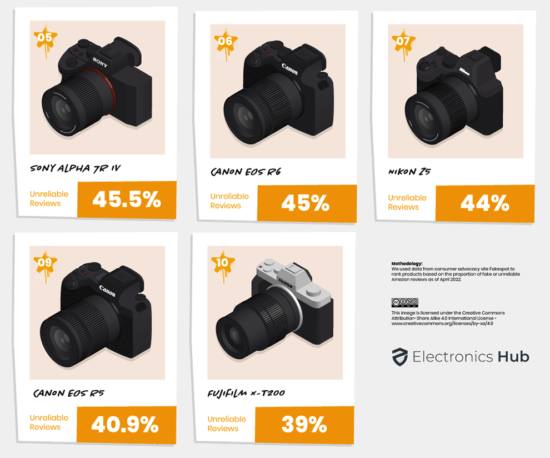 Fstoppers reported that the Amazon rating of the Sony a7R IV camera dropped from 4.8/5 to 2.5/5 after fake reviews were removed. Several other camera models were also quoted:
Fakespot is a website which uses artificial intelligence to "detect fake reviews and scams." Having analyzed Fakespot's data, Electronic Hub identified the electronics and brands with the highest density of Amazon reviews suspected of being fake or unreliable. Here is how the list stacked up:

Sony a7R IV:  45.5%fake/unreliable reviews
Canon EOS R6: 45% fake/unreliable reviews
Nikon Z5: 44% fake/unreliable reviews
Here are the top 10 cameras with the most fake reviews (click for a larger view):
Just a reminder that a few years ago Sony had to pay penalties for fake reviews.