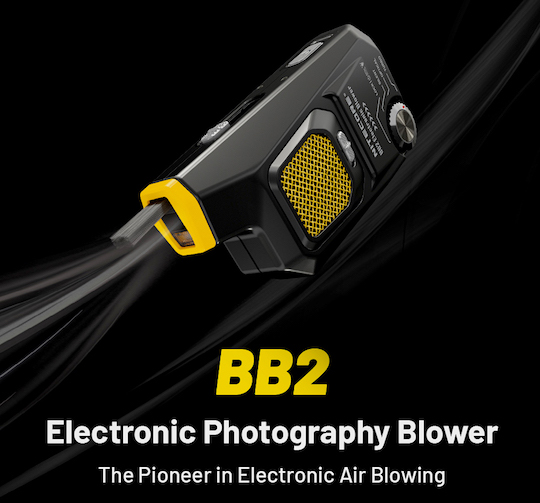 Nitecore announced a new and upgraded BlowerBaby 2 photography duster/blower:
Additional information:
2.7Kpa Dust Removal Wind Pressure with Highly Efficient Cleaning Performance.The maximum wind speed is upgraded to 80km/h.
3 wind Modes speed gear adjustment.
A black magnetic replaceable body cleaning brush is added to the air outlet.
A high color rendering light is added to the air outlet, allowing users to see finer dust more clearly when cleaning, and the cleaning effect is better.
Built-in 7.2Wh Li-ion Battery, the battery capacity has been increased by 30% compared with the first generation of Airbrush.Only takes about an hour to fully charge the BB2.
Equipped a transparent dust cover on the air nozzle.
Lock Mode to prevent accidental activation when carrying or storing.
Here are the upgrades from the previous version:
80km/h Maximum wind speed, and the wind pressure increases by 80% at the highest wind speed (measured data)! The cleaning effect is significantly improved.
3 Wind speed gear adjustment, better for choosing the optimal wind speed gear for cleaning according to the cleaning needs and use environment! (First gear-Silent: wind speed 30km/h; second gear-Optical: wind speed 55km/h; third gear-Turbo: 80km/h55km/h; third gear Turbo: 80km/h)
A black magnetic replaceable cleaning brush is added to the air outlet, combine the cleaning pen and the blower for more convenient use and carry.
New added magnetic brush and lighting allow the BB2 electronic cleaning air blower to achieve the synchronization of blowing + lighting + sweeping.
↑30% of Battery capacity compared to the first generation of blowing treasure, and the battery life has been upgraded.
Shorter charge time, the BB2 only takes about 1 hour to be fully charged.
Using while charging, the BB2 can be used while charging, the user experience has been greatly improved.