A new Russian portrait DSLR manual focus full-frame lens for Canon EF-mount was recently released: Selena S 85mm f/2.2 (Selena-S 2.2/85). The lens has an anti-reflective multi-layer coating. In the US Zenit lenses are sold at B&H. Here are the tech specs and the translated press release: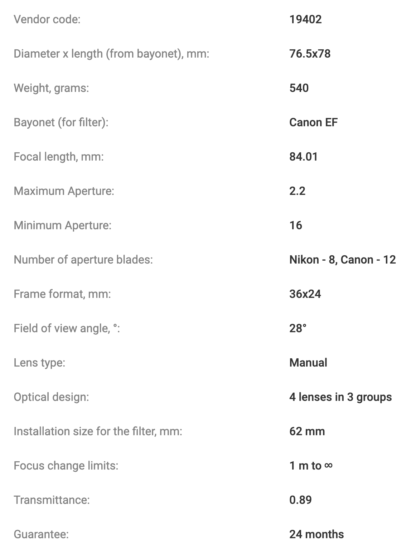 Krasnogorsk plant them. S. A. Zvereva of Shvabe Holding opened a pre-order for a photographic lens "Selena – S" 2.2 / 85. The novelty allows you to create a special pattern of a picture with a "twisted" background blur and is designed for installation on Canon cameras.

The high-aperture Selena-C 2.2/85 portrait lens has a normal focal length and can be used on full-frame SLR cameras with a Canon EF bayonet connection. The lens has manual focus and aperture settings.

An anti-reflective multilayer coating on the lenses of this lens model increases transmission and reduces light scattering, which creates favorable contrast and image sharpness. This technical capability largely eliminates ghosting, flare and light spots even when photographing against the light with a large difference in the brightness of the subject.

"As part of the first batch, we will release 100 lenses. Among other models of the line, this Selena is distinguished by a focal length of 85 mm and a special optical design that contains an ultra-small number of lenses – only four in three groups. This design solution is an author's technology and in practice provides good color reproduction. Today you can buy a lens only on the territory of Russia," said Alexander Novikov, General Director of KMZ.

According to the developers, the new model of a photo lens is ideal for creating artistic photos and shooting family portraits.

Pre-order is available at zenit.photo. You can get acquainted with the novelty live at the site of the recently opened official branded exhibition and trade center "Zenit" in GUM on Red Square.
Two new Russian lenses announced: TAIR-45 95mm f/2.3 and Rubinar 100mm f/2 lens