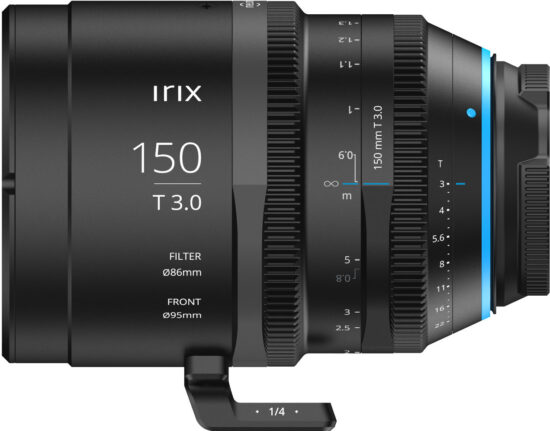 Irix released a new version of their 150mm T3.0 macro 1:1 cine lens for EF/RF/E/Z/MFT/MFT/PL mount. Check availability and pricing at Adorama, Amazon, and B&H (update: now listed at B&H).
Irix 150mm cine lens features:
Ultra HD 8K ready optics with superb image resolution
Full Frame 43.3mm coverage
Weather-sealed construction
Same height aperture and focus rings
Similar size and weight
Color matched
Standard 0.8m pitch mod gears
Standard front diameter of 95mm
Multiple mounts: Canon EF, Arri PL, Canon RF, Sony E, MFT, Leica L, Nikon Z
Additional information:
Irix announces a new version of its cine lens: 150mm T3.0
Irix Cine 150mm T3.0 Macro 1:1 lens was released to the market in 2019 and since then, it has gained many positive customer comments and reviews. This dedicated macro lens features, among other things, a focusing ring, calibrated primarily for working close to the subject. In this range, the focusing ring is very precise. The lens can focus on further planes, but due to its specificity, the range of the ring movement is quite small there. Many of the users who were very satisfied with the image quality of this lens contacted Irix with questions about the possibility of creating a version that would allow for more comfortable work at greater distances from the filmed object. Since the Irix brand always values user feedback highly, we decided to develop a second version of the 150mm T3.0 lens with the TELE designation.
Irix Cine 150mm T3.0 TELE
The optical and mechanical construction of the lens is similar to its older brother, but there are some differences, important from the user's point of view:
The focus range has been modified and starts from 0.67m – it allowed for much greater precision in the movement of the focus ring in the range from 2 meters to infinity. The range of the ring's movement has remained unchanged at 270 degrees.
The aperture range of the lens has also been changed – its maximum value in the TELE version is 22 now.
The combination of a focal length of 150mm with an 11-element rounded diaphragm provides spectacular bokeh and beautiful background painting. Thanks to the bright aperture value, you can easily achieve spectacular isolation of the subject from the background. The optical construction of the lens ensures excellent image sharpness, but with soft tones and a characteristic, subtle glow – this is what the unique, cinematic Irix look looks like.
Quality
The lens is 8K ready, built on 12 optical elements construction, internal focusing, and equipped with an 11 blades aperture. All to offer the highest possible image quality, bokeh, performance, and as low as possible focus breathing.
Compatibility.
The lens is compatible with typical sizes and systems used in cinematography: matte box 95mm diameter, front 86mm filter thread, and 0,8 gears pitch.   
For stability when filming, the lens can be additionally fixed to the cage with a lens foot (included in a kit) with a standard ¼" mount thread. All Irix lenses have gears on the same height for higher comfort of use, they also have similar weights and dimensions.
Functionalities
The lens is equipped with many Irix solutions and ideas. The front of the lens is equipped with Magnetic Mount System for easy installation of additional accessories and Irix MMS filters or an optional lens hood.
Adaptive Ring for follow focus system lets enjoy the full functionality of follow focus systems and also makes the lens more friendly when follow focus is not used.
Ready for action
The lens is equipped with weather sealing (5 rubber rings, PL mount 4 rings) and is lightweight. The lens is made of magnesium alloy and has durable metal construction but its weight is only 1105g (Canon EF version). It makes the lens well-balanced in use with mid-size camcorders and SLR/mirrorless cameras.
Available mounts
The Irix Cine 150mm T3.0 TELE lens is available in the seven most popular industry mounts: Canon EF, Canon RF, Sony E, Nikon Z, Olympus MFT/ Panasonic MFT, and Arri PL-mount.
Pricing
The prices are set at 1195 euros (1295 euros for the PL Mount version) and 1195 USD (1295 for the PL Mount version). Lenses can be ordered at Irix's official store or from your local dealer.
Specification:
Image coverage

full frame (43.3 mm)

Focal length

150 mm

Aperture range (T)

T3.0 ~ T22

Number of iris blades

11 (rounded shape)

Minimum focusing distance

0,67 m (2'19")

Focus ring

rotation angle

270°

gear pitch

0.8 M

number of teeth

119

distance scale

metric or imperial

Aperture ring

rotation angle

65°

gear pitch

0.8 M

number of teeth

110

Viewing angle (horizontal)

Full Frame

13,7°

S-35mm 1.39x

9,6°

APS-C 1.53x

9°

APS-C 1.62x

8,5°

MFT 2.0x

6,6°

Front filter thread

86 x 1.0 mm

Weather sealing

5 rubber o-rings

(PL 4 rubber o-rings)

Front diameter

95 mm

Markings

metric or imperial