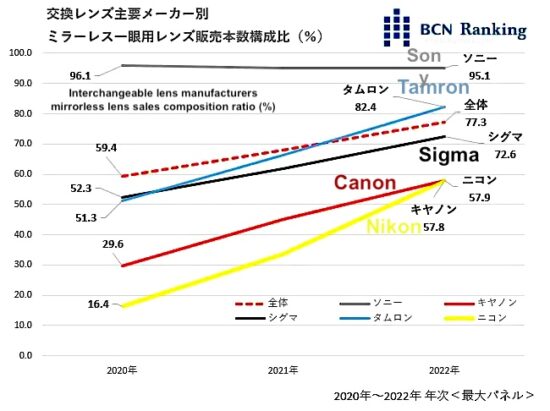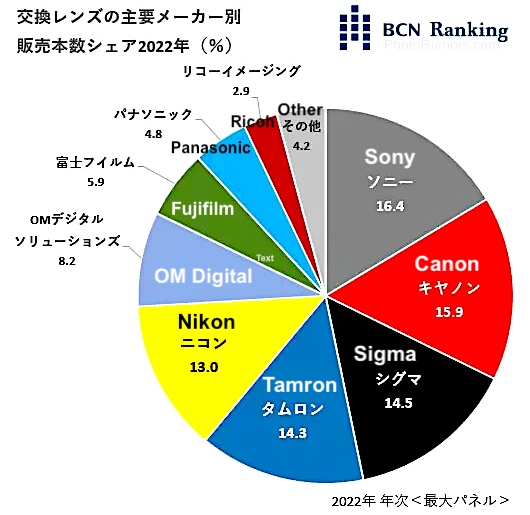 BCN Ranking released their latest interchangeable lens sales data for 2022 (BCN Ranking collects real sales data from approximately 40% of the Japanese retailers – this is not a worldwide market share report):
"Interchangeable lenses bounced back from the corona disaster and showed a big comeback in 2022"
The year-on-year increase in the number of units sold was 106.9%
The sales amount has actually recovered to a double-digit increase of 122.1%
Mirrorless single-lens cameras already account for 90% of the sales volume of camera bodies, but in the sales of interchangeable lenses, "mirrorless" is somewhat behind.
There are still quite a few single-lens reflex cameras that are still in active use but the shift to mirrorless cameras is steadily progressing.
The sales of single-lens reflex lenses continued to shrink to 78.3% in 2021 and 77.1% in 2022.
On the other hand, mirrorless single-lens lenses recorded a double-digit increase of 111.4% in 2021, and further expanded to 121.4% in 2022.
Until now, Canon has held the top share of the year for 13 consecutive years. However, in 2022, Sony took the top spot with an annual share of 16.4% and won the BCN AWARD 2023. Canon dropped to second place with a 15.9% market share.
Lens manufacturers Sigma and Tamron expanded their market share in 2022 . In terms of annual market share, Sigma took 3rd place with 14.5%, and Tamron took 4th place with 14.3%. While Sony and Canon saw a slight year-on-year drop in sales, Sigma's sales rose 126.3%, and Tamron's 136.2%.
Previous BCN ranking stats can be found here.
Source: BCN Retail