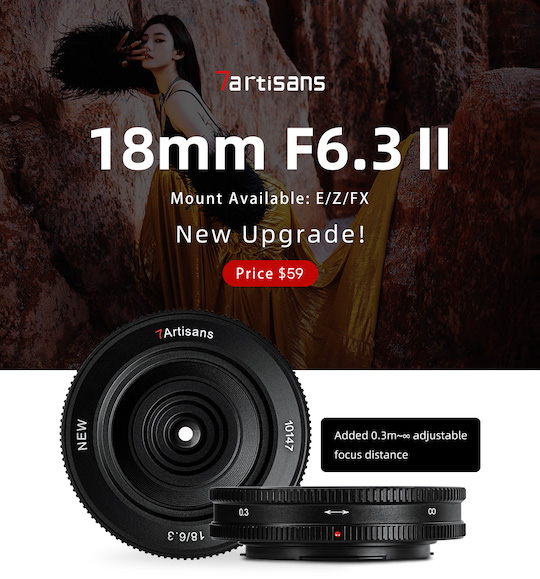 7Artisans announced a new 18mm f/6.3 II "UFO" APS-C lens for Sony E, Nikon Z, and Fuji X mount. One of the improvements is the new 0.3m~∞ adjustable focus distance. This lens has a constant aperture. The price is $59 and orders are now open at:
Compatible with Fuji X-mount, Sony E-mount and Nikon Z-mount cameras.
The 7Artisans 18mm F6.3 II Lens is a tiny wide-angle lens that looks like a body cap when mounting on your camera, which makes it perfect for casual walkaround shooting and the wide-angle focal length suits street and documentary shooting applications.
The 7Artisans 18mm F6.3 II is designed for APS-C-format mirrorless cameras and provides a 27mm equivalent focal length.
Manual Lens: Fixed f/6.3 aperture and fixed focus, with a minimum focus distance of 30cm, with a simple and intuitive design.
Fully-metal Construction: The Lens is fully metal built with a compact size and weighs only 58g.