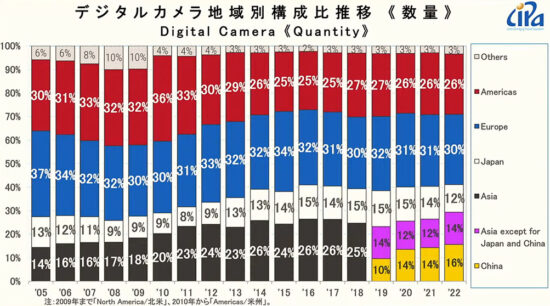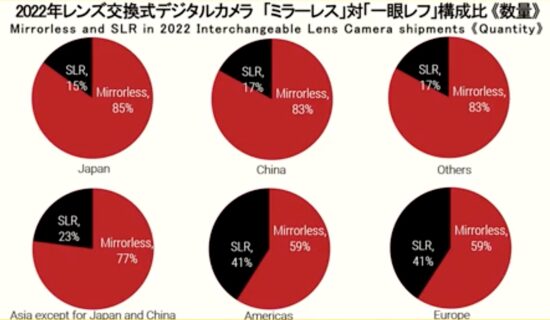 The Camera & Imaging Products Association presentation at the CP+2023 show indicated that average camera prices doubled in 3 years and increased 6 times in 10 years. Here is a recap of the presentation:
The average unit price of digital cameras is soaring. The average unit price of digital cameras in the world in 2022 is 85,000 yen, more than doubled in three years compared to before the new coronavirus disaster. Digital cameras have shrunk with the rise of smartphones, but they are opening up a new market for beginners who want to take pictures of everyday scenes.
In 2020, the digital camera market fell to 7% and 19%, respectively, compared to 2008. However, according to CIPA, the value of global shipments of digital cameras in 2022 increased by 40% from the previous year due to the resumption of the economy from the COVID-19 pandemic, a significant increase for the second consecutive year.
Compared to about 10 years ago, when camera manufacturers began to shift their main products to high-end models, the average unit price has risen six times.
Shigeki Ishizuka, chairman of CIPA, emphasizes, "Interchangeable-lens cameras are growing. With the spread of smartphones, shooting has become a daily routine, and the number of users who are good at shooting has increased rapidly."
Although the market is currently recovering, led by mirrorless cameras, the shipment value in 2022 is only about one-third of its peak. The challenge is whether we can continue to show the way to avoid commoditization.
Camera shipments in 2022 exceed pre-Coronavirus levels showing a clear recovery in the digital camera market
The latest CIPA December numbers and comparison for the last 15 years
Via dclife, digicame-info