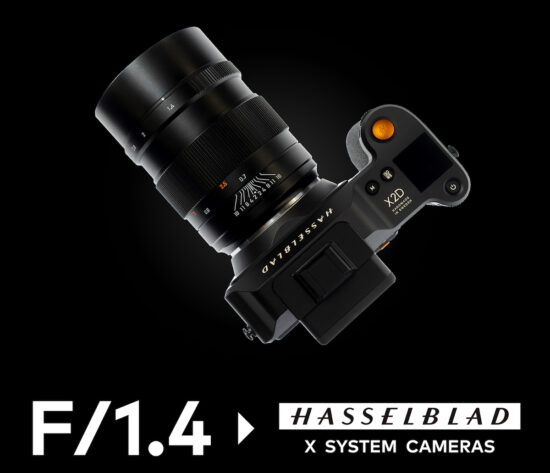 Zhong Yi Optics has unveiled a new 65mm f/1.4 lens for Hasselblad X cameras. Here are the details:
50mm (35mm-equivalent)
Aperture Range: f/1.4 to f/16
Manual Focus Design
Shallow Depth of Field
2 High Refractive Index
2 Ultra-low dispersion elements
Outstanding Bokeh Imagery
Nine-Bladed Diaphragm
Press release:
Zhong Yi Optics released A Fast Lens Mitakon 65mm f/1.4 for Hasselblad X System Users

Shen Yang, 15th March, 2023 – Zhong Yi Optics, a notable wide-aperture lens manufacturer in China, has announced the inclusion of an XCD mount option to their existing 65mm f/1.4 lens, originally designed for the medium format GFX camera system. The Mitakon 65mm f/1.4 is set to become the first f/1.4 fast option for Hasselblad's X system, offering enhanced low light capabilities and greater control over depth of field. With a medium format coverage of 65mm, the lens provides a 50mm field of view, and is constructed with high-quality ultra-low dispersion elements for sharp, detailed images. The prolonged focus throw and metallic housing design further allow for precise control over focus accuracy, making the lens ideal for photographers seeking optimal image quality in challenging shooting scenarios.

Supreme Portrait Lens

The Mitakon Speedmaster 65mm f/1.4 lens offers a natural perspective that is similar to that of human eyes. With its medium format design and 50mm angle of view, the lens delivers an experience that is highly immersive and engaging. The lens is the first f/1.4 option for Hasselblad X system camera users in the native XCD mount format. When used for portrait photography, the lens offers unparalleled control over depth of field, allowing for dreamy and isolated subject matter that is set apart from the softly blurred background. These features make the Mitakon Speedmaster 65mm f/1.4 lens an ideal tool for photographers seeking to capture stunning, highly artistic portraits.

Buttery Smooth Bokeh

The Speedmaster 65mm f/1.4 lens from Zhong Yi Optics is capable of producing the company's trademark buttery smooth bokeh effect. This is achieved through the use of nine circular aperture blades, which create a rounded bokeh effect around the light sources captured in the photograph. Additionally, the lens can produce a softly blended background that resembles butter in its texture and appearance. The lens also offers a high degree of control over depth of field, making it a versatile tool for photographers who would like to creatively manipulate their images.

Splendid Imaging Performance

The Speedmaster 65mm f/1.4 lens delivers exceptional imaging performance across the entire frame, even when used at its widest aperture setting. The lens incorporates two ultra-low dispersion glass elements and two high refraction index glass elements, which are precisely arranged to deliver optimal sharpness and clarity. As a result, the lens is capable of capturing images with sharp details and minimal field curvature, ensuring the highest possible resolution is retained along the edges of the frame.

Reliable Build Quality and Box

The aperture ring and focus ring are adorned with clear and precise scaling, discreetly embedded on the durable metal barrel. The lens boasts a notably long focus throw, which enhances precision when focusing on target objects. Additionally, the redesigned lens hood specifically helps minimize undesirable effects like lens flare and ghosting. A leather box will be gifted when purchasing the lens.

Internal Focusing

The Mitakon Speedmaster 65mm f/1.4 lens distinguishes itself from other XCD lenses with its internal focus design, which allows for seamless adjustment of focus without any extension or retraction of the lens housing. This feature also enables the lens to support a variety of camera accessories, such as filters and matte boxes, with sturdy and reliable mounting capabilities.