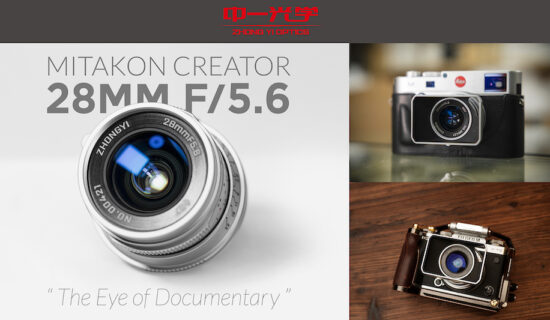 Zhong Yi Optics has announced a new Mitakon Creator 28mm f/5.6 lens – a recitation of the iconic Leica Summaron M 28mm f/5.6 lens. The new lens is available for Sony E, Fuji X/GFX, Canon R, and Leica M/L cameras.
Zhong Yi Optics announced the Mitakon Creator 28mm f/5.6 Lens
Shen Yang, 28th March, 2023 – Zhong Yi Optics, a prominent manufacturer of wide- aperture lenses in China, has recreated the iconic Leica Summaron M 28mm f/5.6 lens with faithful adherence to the original lens characters, all while keeping the price point affordable. The Zhong Yi Creator 28mm f/5.6 lens boasts a compact
and lightweight design that is ideal for daily photography. With rangefinder coupling support, this lens enables precise focus on Leica cameras, further enhancing the photographic experience for photographers.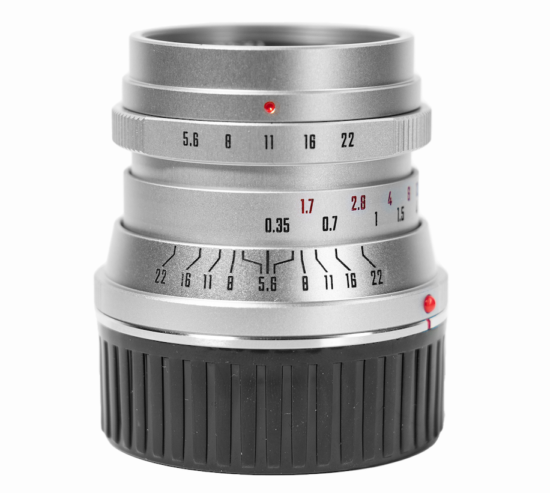 Perfect Focal length and Image Quality for Photojournalism
The 28mm and 35mm focal lengths are widely recognized as popular options for capturing documentary and street photography. Of the two, the 28mm lens is known for creating a stronger sense of tension within an image, resulting in a more impactful visual experience for viewers.
The Mitakon Creator 28mm f5.6 Lens is a versatile option that delivers sharp details across the entire image, with minimal field curvature that ensures the highest possible resolution is maintained along the edges of the frame. These qualities make it an ideal lens for journalist-type photography, where capturing accurate and detailed imagery is essential.
Immersive Daily Photography
Photographers often prioritize lenses with large apertures that can create dreamy effect on images. However, it is important to remember that the true essence of photography is capturing and preserving cherished moments in life. A narrower aperture can help ensure that the subject is in focus, freeing users to focus on the creative process rather than technical camera settings.
Moreover, a lightweight and compact lens is ideal for outdoor photography, where mobility and ease of use are crucial. With a smaller size lens, photographers can move around more easily and be ready to capture their next shot without being weighed down by heavy equipment. By choosing a lens that prioritizes convenience and portability, photographers can better focus on their craft.
Photographer to accurately focus the lens by aligning two superimposed images in the viewfinder. This is done by adjusting the focus until the two images are perfectly aligned, indicating that the subject is in focus. The rangefinder coupling system typically works by using a small mirror or prism to split the incoming light from the lens into two separate paths, which are then recombined in the viewfinder. By adjusting the position of the focusing mechanism, the photographer can align the two images and achieve precise focus. Rangefinder coupling is a key feature of Leica cameras and is one of the reasons why they are so highly regarded by photographers for their precision and image quality.
Premium Built Quality
The housing of Mitakon 28mm f5.6 lens is constructed from durable metal, ensuring reliable performance and longevity. To enhance the usability of this compact lens, Zhong Yi Optics has incorporated a small knob onto the focus ring. This feature, combined with a smooth focus ring, provides users with a seamless and intuitive photography experience. The focus assisting knob further enhances the precision and accuracy of the lens, allowing photographers to capture their desired shots with ease and confidence.
Pricing and availability
The new Mitakon Creator 28mm f/5.6 lens is available now on the official website. The US retail price is $299.
Sample photos: