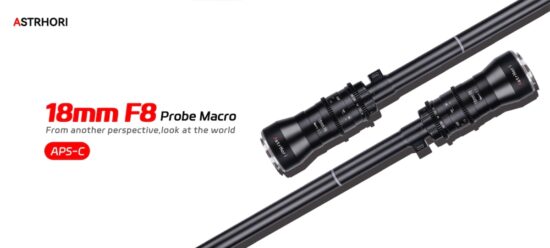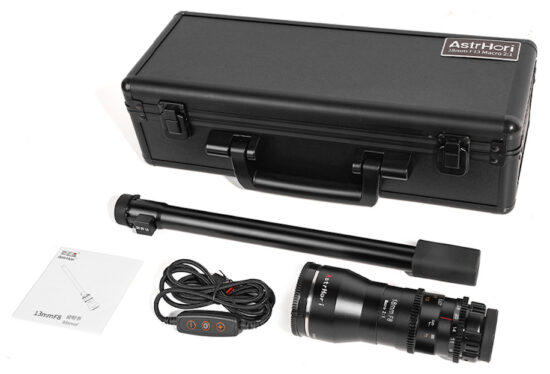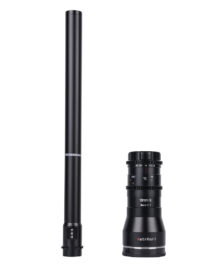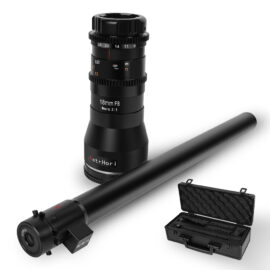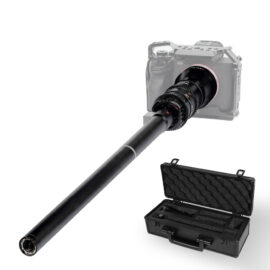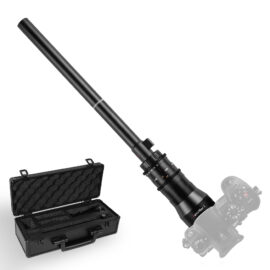 The previously reported AstrHori 18mm f/8 APS-C periscope probe macro lens is now officially announced for Sony E, Fuji X, Canon RF and EF, Nikon Z, Leica L, and Micro Four Thirds mounts. Pre-orders are now open at:
Lens key features:
2x magnification for macro photography and close-up shots.
23 elements in 17 groups
Minimum focusing distance of 0.47m
Check the official Astrhori website for additional information (AstrHori lenses are also sold at Amazon):
Note: Press releases can be issued after 2:00 pm Beijing time on May 29.
Thank you for your support and help.
Best

AstrHori Introduces the First APS-C 2X Macro Probe Lens — 18mmF8
Let everyone realize creative, macro photography.
AstrHori announces the APS-C 18mm f/8 2x Macro Probe Lens for Sony E, Fuji X, Canon RF, EF, Nikon Z and more mounts.
The lens will be officially launched on May 29th on Amazon, AliExpress, independent stations and other platforms.
The lens is now on sale for an impressively-low price of just USD 719, EUR 999, JPY 119,599, GBP 879, MXN 14,369, CAD 989.
Following the launch of the 28mmF13 2X macro probe lens, the 18mmF8 2X macro macro probe lens is launched. I don't know if there will be a 28mmF13 second-generation lens, let us look forward to it.
As the first APS-C probe lens, AstrHori 18mmF8 is a probe type macro lens with a detachable structure design, and the wide-angle focal length is 18mm. It makes up for the shortcomings that ordinary lenses cannot shoot in claustrophobic and small spaces. Stable image quality with a minimum focusing distance of approximately 0.05m and a maximum magnification ratio of 2:1 (life size).
The front end of the lens can be imaged separately, with a focal length of approximately 90mm, and in addition, the main subject is highlighted through the wide-angle macro, creating an immersive image.
This lens is not only an ideal choice for macro shooting, but the built-in movie gear can provide more convenience for movie shooting, whether it is a close-up of a product or a special lens for commercial shooting, it can be easily controlled.
Specification:
Focal length

 

18mm.
Frame

       

(APS-C).
Mount

       

Canon RF, EF, Nikon Z, Sony E, Fuji X, Panasonic L, Olympus M43.
Focus mode

   

(Manual).
Focusing range

 

0.475m~∞.
Working Distance

 

5mm.
Aperture range

   

F/8~28.
Angle of view

   

76.0°
Diaphragm blades

 

7 tablets (7blades).
Optical structure

 

17 groups of 23 elements (23elementsin17groups).
Optical total length (TTL)

   

469mm.
Dimensions (Dimension)

 

Φ60*L457mm.
Weight (Heavy volume)

   

716g.
Wider 18mm Under the same magnification, the wide-angle macro can accommodate more and larger content, shoot extremely small objects, and also capture the surrounding environment into the picture to enhance the sense of picture.
Front Waterproof Design The front group of the lens is 20cm extreme waterproof, with a limit wading line mark, which can directly enter family fish tanks, wild streams, small animal caves and other wading areas for work.
Built-in LED fill lightBuilt-in LED fill light, which is conducive to working in dark light. It can work when connected to a 5v power supply. It can effectively increase the light intensity when shooting with a small aperture for macro.
Waterproof protective lens is made of sapphire material The front protective lens is made of sapphire material, which is more wear-resistant, has a longer service life, and has wider application scenarios.