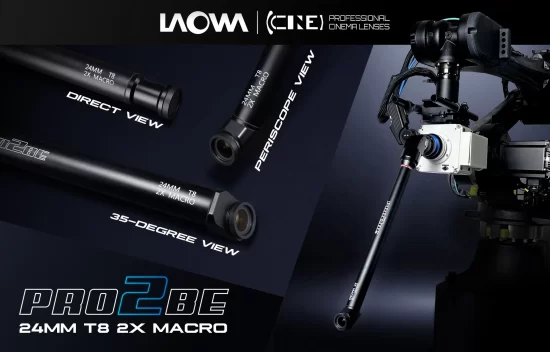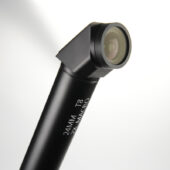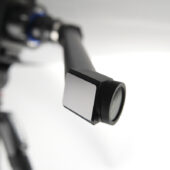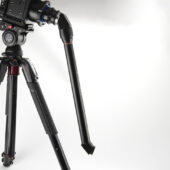 The previously reported Laowa 24mm T8 2X Macro Pro2be lens by Venus Optics is now officially announced and available to order at the official Laowa online store and B&H Photo. Here are the details:
Laowa 24mm T8 2X Macro Pro2be
Lens Type
Direct View
35° View
Periscope View
Format Compatibility
Full-frame
Focal Length
24mm
Aperture Range
T8 – 40
Diagonal Angle of View
85°
Lens Structure
33 elements in 24 groups
33 elements in 24 groups
34 elements in 25 groups
Aperture Blades
10 blades
Min. Working Distance
4mm
Max. Magnification
2X
Focus Throw
150°
Aperture Throw
50°
Focus Mode
Manual (MF)
Dimensions
30.4x507mm
30.4x500mm
30.4x500mm
Weight (PL)
1038g
1024g
1068g
Mounts
Arri PL, Canon EF, Canon RF, Nikon F, Nikon Z, Sony E, L mount
Price
3-lens set: $8,499
$2,849
$3,149
$3,349
Versatile Aperture Range from T8 to T40
The new Pro2be has a maximum T8 aperture. The faster aperture makes it more favorable for outdoor shooting with limited light or for high-speed shooting. You can also have more control on DoF from the T8 to T40 according to the lighting and setup.
Longer tubular and Adjustable Lens Barrels (for 35° View and Periscope Lenses)
These lenses are designed with long and adjustable lens barrels for filmmakers to get the right angle for a shot. The lens barrels are almost 10cm longer than the previous versions, allowing the lens to go further or deeper. Moreover, with the 360° rotating mechanism, these lenses can provide more flexibility and versatility to capture the subject at different positions and elevations. You can simply adjust the angle of the lens on the setup with the lens mounted on the camera.
36.6cm Waterproof Distance
The Pro2be extended the waterproof distance up to 36.6cm, which provides much more room for filmmakers to look for underwater creatures and the possibility to scale up the water scenes. The extra angle also provides more flexibility for setup and maneuvering.
Excellent Image Quality and Color Rendition
The Pro2be improved the optical design to better render the color and details of the image. All 3 lenses are equipped with multiple High refractive index glass and Extra-Low Dispersion Elements, providing much better sharpness and image quality.
2X magnification with 4mm unbelievably close working distance
All Pro2be can deliver the image in 2:1 magnification of the object, filmmakers can also capture the finest intricate details with a working distance of up to 4mm. It is useful to shoot product b-rolls for watches and jewelry, intricate details can be revealed.
7 Interchangeable mounts
Laowa is offering 7 interchangeable mount bayonets for the Pro2be. All 3 lenses can share the same bayonet and the conversion between mounts can be completed by few simple steps. Filmmakers can use them on different cine and high-speed cameras without adapters, elevating the shooting experience with extra stabilities. Available mounts: Arri PL, Canon EF, Canon RF, Nikon F, Nikon Z, Sony E, L mount.
Close To The Ground Shots
The Periscope lens can stay close to the ground while maintaining the camera at a high level. Filmmakers can capture interesting ground-level angles with a handy setup.
FPV-Like Shots
With the long and periscopic tube, the Pro2be can "travel through" different objects without limit. It is a perfect tool to pair with robot arms to create crispy and dynamic footage for commercials, movies, or other creative works through precise motion control.
Cinematic Low and High-Angle Shots
Epic commercial shots, for example, giant-liked product shots can be done with the built-in 35° tilt of the lens. It is more convenient for filmmakers to shoot when the camera is leveled, and the degree of the tilted angle can also be maintained easily for every shot.
Extreme Close-Up Shots from multiple positions
With the periscope and 35° View, cinematographers can now get extreme close-up shots from various positions. Much easier to position light and other objects.
The Venus Optics Laowa FF 24mm T8.0 2X Macro Probe lens will be announced on August 15th, here is the press release
More pictures of the upcoming Venus Optics Laowa FF 24mm T8.0 2X Macro Pro2Be lens