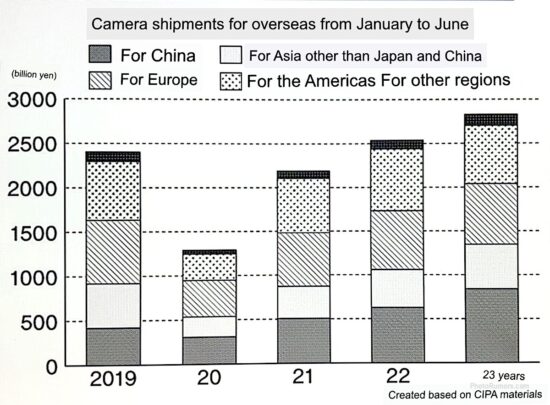 The Japanese website Newswitch reports that the camera market is booming partially because of very strong demand in China – here is the recap from digicame-info:
There is a clear recovery in demand for cameras in China. According to the shipment results of digital cameras compiled by CIPA, the value of shipments to China in the first half of 2023 exceeded that of Europe and the Americas. Against the backdrop of the easing of restrictions on going out due to the corona crisis, the performance of the camera business of domestic companies is also performing well.
The easing of restrictions not only in Japan but also overseas has become a tailwind for the performance of domestic camera companies. Fujifilm Holdings' sales of digital cameras in Japan and overseas "increased by more than 60% (compared to the same period last year)," said President Teiichi Goto. In the forecast for the fiscal year ending March 2012, the sales and operating income of the imaging business have been revised upward.
Nikon has also revised upward its sales forecast for the fiscal year ending March 2024 in response to strong sales of mirrorless cameras. Director and Senior Managing Executive Officer Yoshiaki Tokunari said, "The Chinese market is a driving force," and said, "The overall market for cameras, which are a luxury item, is growing."
The Sony Group also said, "The camera market is doing very well," said President Hiroki Totoki. Sales in China and Asia are especially strong. However, we are concerned about the economic slowdown, especially in Europe and the United States, in the hardware business. Regarding the economic recession in China, President Totoki said, "TVs and smartphones are likely to be affected."
Sales of Canon cameras are also doing well. The sales growth rate for the imaging business, which includes mirrorless cameras for general consumers and surveillance cameras, in the period from January to June was up 13.5% year-on-year in Japan and 15.1% year-on-year overseas.
Due to the increase in opportunities to go out, it is expected that the demand for cameras that are often used outside, such as when traveling, will grow. However, there is still concern that the decline in personal consumption due to the economic slowdown in Japan and overseas will spread to camera demand.
Camera shipments in the first half of 2023 will greatly exceed 2019 before the corona crisis, and the camera market is clearly recovering. It seems that camera manufacturers are greatly increasing sales in the camera business. However, since the recovery of the camera market is largely due to the increase in demand in China, I am a little worried that the economic slowdown caused by the bursting of the Chinese real estate bubble will affect camera sales in the future.