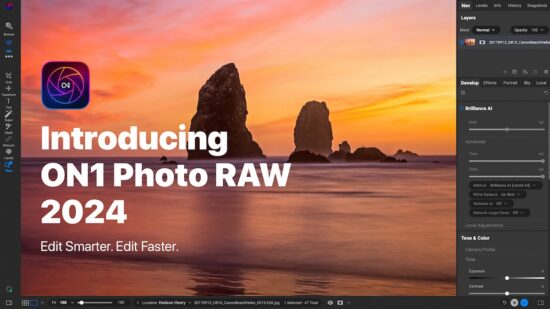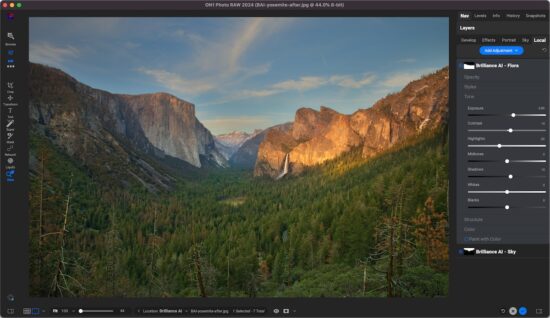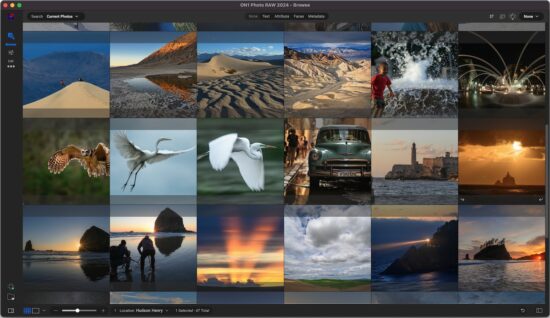 This year ON1 will release two new versions of Photo RAW 2024: ON1 Photo RAW MAX 2024 and ON1 Photo RAW 2024:
Version 2024 brings AI-powered features, enhanced performance, intelligent color and tone with Brilliance AI, a streamlined modern interface, improved photo management workflow, AI-recommended presets, 100+ new Effects Presets, extended AI capabilities for noise reduction, portrait retouching, local/batch adjustments, new Layers Pane, auto-embedding of metadata, pixel pasting, DCP file import, and more enhancements, making it the ultimate version of ON1 Photo RAW. ON1 Photo RAW MAX will bring back the plugin functionality to seamlessly use Photo RAW with other apps like Photoshop, Lightroom, and Affinity Photo. What's the difference between ON1 Photo RAW MAX 2024 and ON1 Photo RAW 2024?: ON1 Photo RAW 2024 includes the same powerful tools as the MAX version except for plugin compatibility for other editors.
Here are the key features coming in version 2024 this fall:
A New Edition of Photo RAW, ON1 Photo RAW 2024 MAX – This edition will integrate ON1 Photo RAW as a plugin for software like Adobe Photoshop, Lightroom Classic, Apple Photos, Affinity Photo, and more.
Ultimate Speed and Performance Upgrades
Intelligent Color & Tone Adjustments with Brilliance AI
Auto Apply NoNoise AI and Portrait Retouching with Brilliance AI
Apply Local Adjustments Automatically
Batch Adjustments with Brilliance AI
AI Recommended Effects
Effects Preset Collections – Over 100 New Presets
New User Interface
Effortless Photo Management to Editing
The Ultimate Highlight Recovery
Layers Pane: Enhancing Usability
Keyword AI Enhancements
Enhanced Searching
Enhanced Cataloging
Add Text Layers
Auto-Embed Metadata and Paste Pixels
Import DCP Files
Additional information:
Introducing ON1 Photo RAW 2024: A Revolutionary Leap in Photo Editing with AI-Powered Features, Enhanced Tools, and Incredible Performance
Portland, Oregon, 9/5/2023 – ON1, a leading provider of innovative photo editing software solutions, is excited to announce the next major release of ON1 Photo RAW, version 2024. This latest version will set new benchmarks in the world of photography by introducing many cutting-edge AI-powered features designed to empower photographers of all skill levels to elevate their work.
ON1 Photo RAW 2024 represents a pivotal shift in focus for the company, with VP of Product Dan Harlacher emphasizing, "This release, we are spending a lot of resources on usability, performance, and stability throughout the app." The user interface has undergone significant enhancements, becoming cleaner, more readable, and faster. Harlacher adds, "New users should find it easier to get started while existing users should feel very comfortable with the new workspace." Furthermore, the release also introduces game-changing features like Brilliance AI, which streamlines editing and instantly makes almost any photo look great without all the extra work that goes into raw processing each photo. This major release aligns with the company's long-term vision, addressing modernization, performance, and paving the way for future new innovations to make Photo RAW a must-have for all photographers.
Key Features in Version 2024
ON1 Photo RAW MAX: Unifying Power, Limitless Possibilities
Regardless of their software workflow, all photographers can experience the ultimate photo editing powerhouse with ON1 Photo RAW MAX. Seamlessly integrating ON1 Photo RAW as a plugin with its diverse set of tools, including Develop, Effects, Portrait AI, Sky Swap AI, NoNoise AI, HDR, and Resize AI, ON1 Photo RAW MAX is compatible with industry-standard software like Adobe Photoshop, Lightroom Classic, Apple Photos, Affinity Photo, and more. With Photo RAW MAX, photographers will enjoy the convenience of 200GB Cloud Storage for one year and up to three activations for maximum flexibility, all without a subscription.
Ultimate Speed and Performance Upgrades: Redefining an Efficient Workflow
Version 2024 will take performance to new heights with upgrades that will highly impact your editing experience. ON1 has focused on the areas most important to customers, such as browsing and opening photos from browse to edit. Cataloging, a common browsing task, is over 4x faster utilizing improved threading and settings. Opening a raw photo into Edit is up to 3x faster with an almost instantaneous feeling. ON1 is not done and will continue to focus on performance over the coming year as part of several free updates to come.
Intelligent Color & Tone with Brilliance AI: Elevate Your Photographic Vision
At the heart of the new release lies a groundbreaking new AI-powered feature, Brilliance AI. Photographers can bid farewell to generic auto-tone algorithms and say hello to intelligent color and tone adjustments that mirror their artistic intent. The AI-powered color, tone, noise, and detail adjustments uniquely interpret each image, delivering results unique to the image and reflecting the original vision for the photograph. The photographer is in complete control of the adjustments and can control each adjustment with one slider.
Auto Apply NoNoise AI and Portrait Retouching: Flawless Results, Every Time
With the magic of Brilliance AI, the software attacks noise and retouching needs in your photos, automatically utilizing NoNoise AI and Portrait AI for superb results.
Apply Local Adjustments Automatically
Brilliance AI can also automatically apply local adjustments, granting precise control over elements like the sky, foliage, and people. With the click of a button, photographers can add other regions like water, animals, mountains, etc, achieving stunning results without the need of complex selections, masks, or filters.
Batch Adjustments with Brilliance AI: Efficiency, Redefined
Redefine the editing workflow with Batch Adjustments powered by Brilliance AI in Browse. Prepare photos in batches so the editing process isn't starting from scratch.
"Brilliance AI is a real game changer. Many photographers struggle with the complexity of the basic raw processing adjustments needed just to make your photo look like what you remembered when you pressed the shutter. Brilliance AI is like a fast-forward button in your workflow, automating these mundane and complex tasks, preparing it for the fun part of editing–like adding your personal touch with Effects. It's another example of where we can use AI to take away the hard stuff without taking away your creative control" says Dan.
AI Recommended Effects: Your Creative Compass
Achieve award-winning photos effortlessly with AI Recommended Effects. Let AI analyze your scene and provide expert suggestions for selecting the most suitable effects, transforming your shots into stunning masterpieces without all of the leg work.
Effects Preset Collections: Stay Ahead of Trends
Stay on the cutting edge of photography trends with over 100 new, meticulously curated presets for Effects. ON1 Photo RAW 2024 offers a treasure trove of preset options to keep your work fresh and captivating.
Modern User Interface: Fresh and User-Friendly
ON1 Photo RAW's modernized user interface guarantees a fluid experience for newcomers and experienced users alike. Access vital tools seamlessly with a clean layout, and maintain full feature accessibility.
A Seamless Workflow: Effortless Photo Management to Editing
Navigating between managing photos in Browse and editing photos has never been smoother. ON1 Photo RAW 2024 integrates Browse and Edit modules seamlessly, allowing you to switch between them instantaneously. Photographers will appreciate this streamlined experience as they transition effortlessly between tasks.
The Ultimate Highlight Recovery
Highlight Recovery has also been greatly enhanced with the improved highlights slider. See the full potential of highlights using this powerful mode, as ON1 Photo RAW 2024 brings HDR-like results to single shots, while maintaining natural looking results in areas like clouds and skin.
Layers Pane: Enhancing Usability
The enhanced Layers Pane in the Edit module will be more familar to Photoshop users with a similar layout. You can now adjust the pane's height manually, instantly switch layers, and view and edit your settings applied for each layer.
Keyword AI Enhancements: Intelligent Keywording
Keyword AI will also be updated to detect regions alongside objects, helping with faster photo organization. Automatically generate region-based and related keywords, enabling swift searches and enhancing cataloging efficiency.
Enhanced Searching
The new Search Bar will significantly improve the way you can find photos. It will also make common searches easier by exposing things like faces, types, and edits.
Enhanced Cataloging: Tailored Control
Photographers can take charge of cataloged folders with enhanced control over preview size, scan frequency, CPU utilization, Keyword AI scanning, and Cloud Sync publishing. Everyone will enjoy up to four times faster cataloging speeds, transforming the entire photo organization experience.
Add Text Layers
The improved Text feature will present each text block as a separate layer. This will give photographers more creative options by masking, blending, and applying effects filters to individual text layers.
Auto-Embed Metadata and Paste Pixels: Seamless Integration
ON1 Photo RAW 2024 introduces auto-embedding of metadata for JPG files, ensuring seamless searchability across applications. Moreover, the ability to paste pixels from external apps as new layers offers unprecedented integration possibilities.
Import DCP Files
Develop module welcomes Adobe DCP format camera profiles in addition to ICC profiles, enhancing your editing arsenal. Import profiles directly from Adobe DNG Converter to elevate your photo editing prowess.
"We are incredibly excited to unveil ON1 Photo RAW 2024, a culmination of our dedication to pushing the boundaries of what's possible in photo editing. This release embodies our commitment to empowering photographers with state-of-the-art AI-driven features, significant upgrades to performance and usability, seamless workflow enhancements, and tools to amplify creativity. ON1 Photo RAW 2024 is a significant leap forward. It reaffirms our mission to provide photographers with the tools they need to bring their photographic vision to life," says Craig Keudell, ON1 President.
Price and Availability
Pre-order a license for ON1 Photo RAW MAX 2024 with plugin capabilities ($149.99 upgrade, or $179.99 for new customers) or Photo RAW 2024 for standalone use only ($79.99 upgrade, or $99.99 for new customers), and receive the new ON1 2024 Creative Pack of AI presets and extras delivered with version 2024 this fall.  Customers who pre-order version 2024 can use Photo RAW 2023.5 until the new version is released. Photo RAW MAX 2024 is also available as part of the ON1 Everything Subscription Plans, which include all of the ON1 editing applications and plugins for Photoshop, Lightroom, Capture One, Affinity, Corel PSP, and Apple Photos, along with ON1 Cloud Sync storage and all future software titles.
ON1 Photo RAW 2024 includes the same powerful tools as the MAX version except for plugin compatibility for other editors, and the 200GB of ON1 Cloud Sync Storage.
About ON1
ON1 creates world-class photo editing software applications for photographers of all levels. Our mission is to help photographers get the best possible results from their photos in the shortest amount of time. Our software is innovative, intuitive, and easy to use. We are dedicated to providing our customers with exceptional support and resources to help them achieve their creative vision.