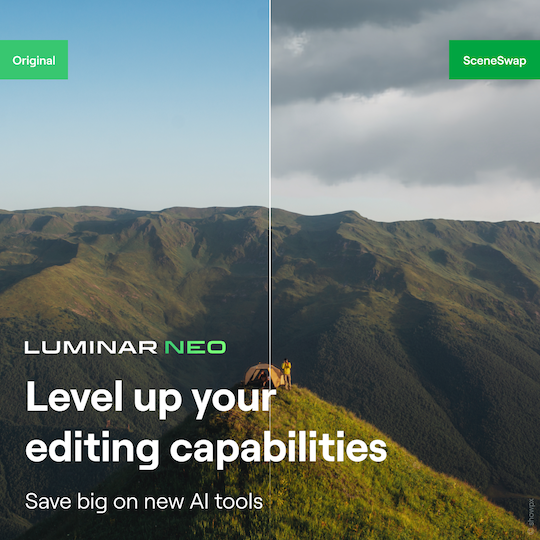 Skylum releases Luminar Neo update version 1.13.0 with Studio Light feature, Blur Tool, and other improvements (you can get 30% off Luminar with coupon code NR30 – valid until September 11th).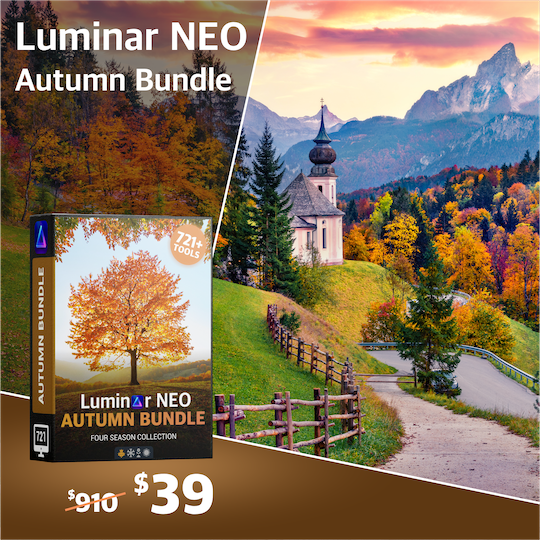 Check out also the new Luminar NEO Autumn Bundle with 0ver 721 new AUTUMN elements, high-definition Skies, Overlays, Textures, Backgrounds, Frames, LUTs, Presets, and more.
Additional information:
Skylum Luminar Neo update version 1.13.0:
Studio Light is now available in Luminar Neo! Enhance portraits by faithfully replicating lighting effects usually achieved with expensive technical equipment in the studio. Breathe new life into older photos by adding dimension, simulate warm sunlight as it spills through window shades behind your subject, add textures and light patterns to your portraits, and so much more.
Blur Tool: easily add three types of blur to your photos, including Gaussian, Motion, and Twisted. You can also adjust the amount, angle, and position of the blur effect, and use masking to apply it to a specific area of the photo.
Luminar Neo users who own the Panorama Stitching Extension can now access it directly within Lightroom with the new Lightroom Plugin. Plus, it's more convenient to use, as Autocrop is applied automatically, we've specified the maximum number of photos that can be added (100 photos!), and added other small improvements to the user interface.
Added new camera support: Canon EOS M50 Mark II, Fujifilm X-S20, Leica Q3, Nikon Z8 (lossless compression only), Sony ZV-1 Mark II.
Pptimized the Toning tool by removing the Balance slider from the advanced section and placing it directly within the tool to avoid extra steps, and we expanded the capabilities for the Magic Light tool by adding the brush feature.
Luminar Neo 1.13.0 also provides a steadier and more responsive experience, as we've caught and fixed a number of bugs. Install this update today to take advantage of these new features and performance improvements.
Following the success of our Luminar NEO products, we are back with even more tools to make editing in Luminar NEO fun. The Luminar NEO Autumn Bundle celebrates the arrival of autumn, one of photography's most celebrated seasons.

With 721 brand-new tools and assets, we will ensure you have everything you need to make your captures of this upcoming season memorable.

Our Autumn Bundle includes high-definition skies, overlays, backgrounds, textures, sky objects, LUTs (moods) and presets. It was designed by Jakub Bors, a professional photographer and producer behind one of YouTube's most popular Luminar NEO channels.
This bundle is suitable for photographers with all levels of photo editing skills. Quickly transform your photos or add beautiful atmospheric depth, texture and light to your images with only a few clicks. In addition, the purchase includes video tutorials with everything you need to know to start with your new tools.

Whether you are a professional photographer, a novice taking photos for your Instagram feed, or anywhere in between, you will LOVE our Luminar NEO Autumn Bundle.
BONUS: To add even more value to this product, you will get the Halloween Mini-Bundle with a creative set of Presets, Textures, LUTs, Overlays, Backgrounds and Skies with a moody, dramatic and spooky theme.