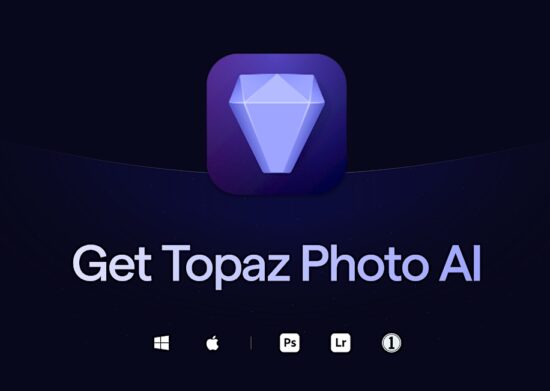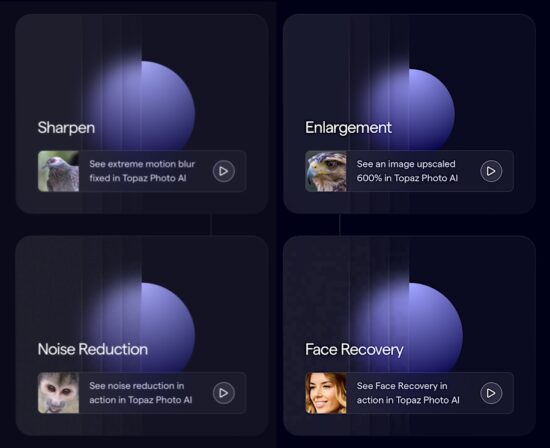 The previously reported Topaz Labs Photo AI v2 is now officially released with many new models, including some entirely new enhancements, and many other improvements. Photo AI 2, the most substantial upgrade since the initial release. Photo AI 2 expands the product's scope with Lighting/Color adjustments and significantly improves existing features like raw noise removal, sharpening, Autopilot, and Photoshop integration. You can get Photo AI 2 for free if you've purchased or renewed Photo AI within the past year. If your upgrade license has expired, you can renew for half price to get Photo AI v2 plus another year of upgrades.
Topaz Photo AI is currently $159 ($40 off) until September 22nd, 2023: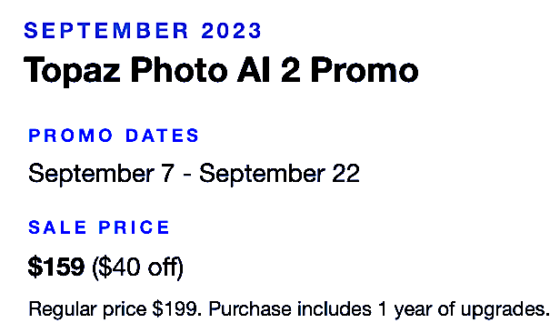 Topaz Labs Photo AI changes since 1.5.4:
Added v2 of the Sharpen Standard model
Added v2 of the Remove Noise RAW models
Added Adjust Lighting enhancement
Added Balance Color enhancement
Added automate plugin for Photoshop, which allows for cropping and upscaling

Access the plugin within Photoshop by going to File > Automate > Topaz Photo AI

Added many new configuration options over how Autopilot works
Added new panel displaying the status of Autopilot

Hover over the status bar to review the completed steps

Updated design of the different panels of the app
Updated status bar and autopilot section to use less space
Updated design of sliders
Fixed right panel scroll position not resetting when switching images
Fixed inconsistent behavior regarding the enhancement being collapsed or not when toggling on by clicking the label (not the switch)
Fixed some Panasonic & Minolta images having incorrect orientation
Fixed some Sony images having incorrect orientation on export
Fixed some exported non-RAW files opening in Camera RAW
Fixed noise levels sometimes being "undefined" in Remove Noise tooltip
Fixed crash when detecting faces
Fixed Autopilot not enabling Remove Noise when it should
File size estimates are now cached
Improved performance when opening many images at once
Updated lensfun
Topaz Photo AI 2 introduces generative AI features designed for professional-grade photo editing
Topaz Photo AI 2 has launched with all-new AI powered features, including a single-slider lighting adjustment filter, a color balance filter, and other best-in-class image enhancement features powered by generative AI.
Dallas, TX – Topaz Labs today announced the availability of Topaz Photo AI 2, the second major version of its flagship desktop app for image quality enhancement. With this upgrade, Topaz Photo AI uses generative AI to deliver on its promise of best-in-the-world image quality for professional and prosumer photographers.
With the new advancements in v2, photo editors can now:
●  Adjust Lighting improves lighting and addresses over/underexposure in a visually pleasing way. It can deal simultaneously with extreme highlights or shadows in the same image.
●  Balance Color attempts to remove color casts, then allows editors to adjust relative temperature based on the neutral baseline.
●  Maximize image quality on raw files with a heavily improved AI-based Raw Remove Noise engine that greatly outperforms alternatives in blind quality tests.The new release also features improved blur reduction AI models and the ability to access Gigapixel generative upscaling directly from the Automate menu in Photoshop.With Photo AI 2, Topaz Labs continues to bridge the gap between cutting-edge technology and magical results for photographers serious about image quality.

"Topaz Photo AI v2 shows the huge potential of generative AI to make editing real photos better," said Eric Yang, CEO of Topaz Labs. "Photographers can focus entirely on achieving their artistic vision and let technology worry about the technical details."

Topaz Photo AI 2 is a desktop software for Mac and Windows with integrations available for major image editors. It's available on the Topaz Labs website for the introductory price of $159 for new users and $79 for existing users without an active upgrade license.
Check Topaz Labs website for additional information.
Topaz Labs is teasing "Something big is coming soon" (Topaz Photo AI v2)