The Pentax K-X full specs and pics were very briefly displayed on a web site (I will not mention which one for now):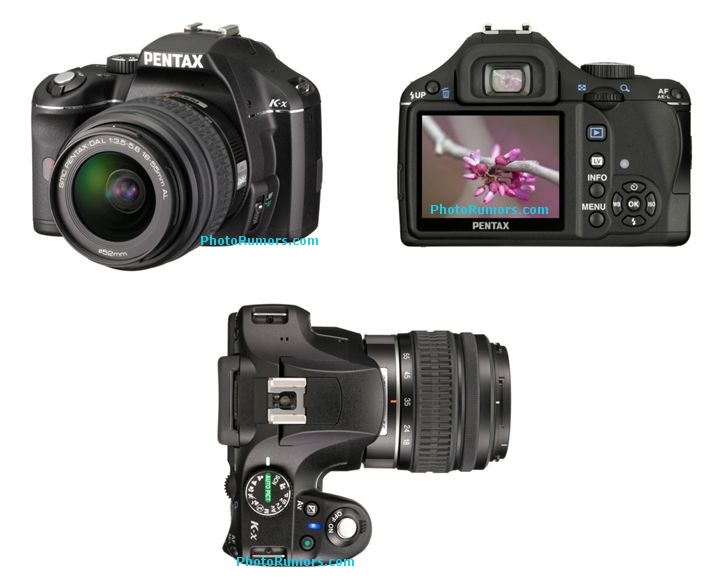 KEY FEATURES
• High resolution 12.4 megapixel CMOS image sensor features sensor-shift Shake Reduction for stabilized image and video capture up to 4 stops max.
• Large 2.7 inch LCD features Live View with contrast, phase difference, and Face Detection autofocus (up to 16 faces).
• Capture widescreen HD video in full 720p resolution (1280×720) at 24 FPS cinematic framerate, using any PENTAX 35mm lens.
• Highly compact DSLR body design allows for 1 handed operation and comfort when travelling.
• Powerful automatic modes, including PENTAX Auto Picture and scene modes, ensure the perfect shot in any situation, while helping new photographers learn DSLR photography.
• Creative processing and filter modes produce high quality finished images, while offering the ability to explore artistic freedom through unique special effects.
• True HDR image capture blends 3 bracketed images into a single picture with outstanding shadow, highlight, and midrange detail.
• Fast 4.7 FPS capture speed and 1/6000 second maximum shutter speeds are possible with the PENTAX PRIME II image processing engine.
• Responsive 11 point wide angle SAFOX VIII autofocus system focuses quickly and accurately, and can easily track moving subjects.
• Capture up to 1900 shots with universally available, easy-to-find AA lithium batteries (also compatible with AA NiMH rechargeable and alkaline batteries).
• Expanded ISO range covers sensitivities from 100-12800 for extreme low light photography.
Full Specs after the jump:
CAMERA HARDWARE
MODEL: K-x
TYPE: Digital SLR
PRODUCT CODE:
Lens Kit: 16301, UPC: 027075159440
Dual Lens Kit (50-200): 16201, UPC: 027075159457
Dual Lens Kit (55-300): 15801, UPC: 027075159464
SENSOR
Type: CMOS with primary color filter and integrated Shake/Dust Reduction sensor-movement system
Size: 23.6 x 15.8mm
Color depth: 8 bits/channel JPG, 12 bits/channel RAW
Effective pixels: 12.4 MP
Total pixels: 12.9 MP
Recorded resolutions
Still: 12M (4288×2848), 10M (3936×2624), 6M (3072×2048), 2M (1728×1152)
Movie (resolution/FPS): 1280x720p24 (16:9), 640x416p24 (3:2)
Quality levels:  Best,  Better,  Good
Dust Removal: Image sensor movement combined with SP coating (Dust Alert available)
LENS MOUNT
Type/construction: PENTAX KAF2 bayonet stainless steel mount
Usable lenses: PENTAX KAF3, KAF2, KAF, KA (K mount, 35mm screwmount, 645/67 med format lenses useable w adapter and/or restrictions)
SDM function: Yes
Power zoom function: n/a
FOCUS SYSTEM
Type: TTL phase-matching 11 point (9 cross) wide autofocus system (SAFOX VIII)
Focus modes: AF Auto, AF Single (w focus lock), AF Continuous (available in Action mode including Auto Picture Action, Kids, Pet, Stage Lighting, Night Snap, P/A/S/M/B/Sv), Manual
Focus point adjustment: 11 point auto, 5 point auto, AF point select, center/spot
AF assist: Yes, via built-in flash
VIEWFINDER
Type: Pentamirror
Coverage (field of view): Approx 96%
Magnification: Approx 0.85X (w 50mm F1.4 at infinity)
Standard focusing screen: Natural-Bright-Matte II
Diopter adjustment: -2.5 to 1.5
Depth of field preview: Optical & Digital (available via programmable Green button)
LCD MONITOR
Type: 2.7" TFT color LCD monitor w adjustable brightness
Resolution: 230,000 dots
Wide angle viewable: Yes
LIVE VIEW
Type: TTL by CMOS image sensor
Field Of View: 100%
Display Modes: Magnification (2-6X in AF, 2-10X in MF), grid pattern, bright/dark indication, histogram
Autofocus: Contrast w Face Detection (up to 16 faces), contrast, phase difference
BUILT-IN FLASH
Type: Retractable P-TTL auto/manual popup flash
Guide number: 12 (100/m), 16 (200/m)
Coverage: 25mm wide angle (equivalent to 35mm)
Flash modes: On, off, redeye, slow sync, slow sync w redeye, slow sync w trailing curtain, wireless
Flash exposure compensation: -2 to 1 EV (1/2 steps)
EXTERNAL FLASH
Type: Hot shoe (P-TTL, high speed sync), wireless w PENTAX dedicated flash
Synchronization speed: 1/180s
STORAGE MEDIA
Internal memory: n/a
Removable memory: SD, SDHC
INTERFACES
Ports: USB 2.0 hi-speed, AV out
Video out: NTSC, PAL
Printer interfaces: n/a
POWER SUPPLY
Power source: 4 AA (lithium, NiMH rechargeable, alkaline)
Recordable images: Approx 1900 (1100 w 50% flash, CIPA)
Playback time: Approx 680 min
Movie recording time: Approx TBD
AC adapter available: Yes (optional)
PHYSICAL SPECIFICATIONS
Body dimensions (W x H x D): 4.8 x 3.6 x 2.7"
Body weight
Without battery or removable memory: 18.2 oz
Loaded and ready: 20.5 oz (lithium)
Construction material(s): Fiber reinforced plastic polymer covers around a rugged stainless steel chassis
Weather resistant: n/a
Operating temperature: 32-104°F
LANGUAGE SUPPORT
English, French, German, Spanish, Swedish, Dutch, Italian, Russian, Portuguese, Danish, Finnish, Polish, Czech, Hungarian, Turkish, Greek, Japanese, Korean, Traditional/Simplified Chinese
IMAGE STABILIZATION
Type: Sensor-shift Shake Reduction (4 stops max)
METERING SYSTEM
Type: TTL open aperture, 16 segment metering
Sensitivity range: EV 1-21.5 (ISO 200, 50mm F1.4)
Multi-segment: Yes
Center weighted: Yes
Spot: Yes
Exposure compensation: +/- 3 EV (1/2 or 1/3 steps)
Exposure lock: Yes (available via programmable AF/AE-L button)
Exposure bracketing: Yes, 3 frames, up to +/- 1.5 (1/2 steps) or +/- 1.0 (1/3 steps)
ISO SENSITIVITY
Auto: 200-6400 (1, 1/2, 1/3 EV steps), up to 1600 in Bulb, expand to 100-12800
Manual: 200-6400 (1, 1/2, 1/3 EV steps), up to 1600 in Bulb, expand to 100-12800
WHITE BALANCE*
Auto preset modes: Auto, Daylight, Shade, Cloudy, Fluorescent (D, N, W, L), Tungsten, Flash, CTE
Manual mode(s): Yes
* WB fine adjustment available in all modes
SHUTTER
Type: Electronically controlled, vertical run, focal plane shutter
Shutter speed: 1/6000 to 30 sec, bulb available
CAPTURE MODES
Mode selection: Auto Picture (Portrait, Landscape, Macro, Action, Night Scene Portrait, Standard Flash Off), Picture (Portrait, Landscape, Macro, Action, Night Scene Portrait, Standard Flash Off), Scene (Night Scene, Surf & Snow, Food, Sunset, Kids, Pet, Candlelight, Museum, Stage Lighting [JPG], Night Snap [JPG]), Program, Sensitivity Priority, Shutter Priority, Aperture Priority, Metered Manual, Bulb (available in Metered Manual), Movie
Custom Image Modes: Bright, Natural, Portrait, Landscape, Vibrant, Muted, Monochrome. Color modes include gamut radar and fine adjustment for saturation, hue, key, contrast, sharpness (regular and fine adj). Monochrome mode includes adjustment for film filter effects (green, yellow, orange, red, magenta, blue, cyan, infrared), toning (sepia warm/cool), key, contrast, sharpness (regular and fine adj). Cross Processing mode available for creative random effect generation.
Green simplified mode available: n/a
P/A/S/M/B: P, A, S, M, B (in Metered Manual), Sv (Sensitivity Priority)
Date stamp: n/a
Digital filters (capture): Toy Camera, High Contrast, Soft, Starburst, Retro, Color Extract (6), Fisheye, Custom (8)
Data record: Folder name (standard/date)
DRIVE MODES
Mode selection: Single, Continuous (Hi, Lo), Self Timer (12s, 2s), Remote (0s, 3s), Auto Bracket, HDR Capture (+3, 0, -3 w 2 blend settings), Multi-Exposure
Continuous FPS: Approx 4.7 FPS (Continuous Hi: 17 JPG, 5 RAW), 2 FPS (Continuous Lo: unlimited JPG, 11 RAW)
Self-timer: Yes (12s, 2s)
Remote control: Yes (infrared, 0s, 3s)
PLAYBACK MODES
Mode selection: One Shot (no data, basic data, full data, color channel histogram), Multi Image Display (4, 9, 16, or 36 thumbnails), Calendar Filmstrip, Folder, Magnification (quick zoom available), Select & Delete, Movie Playback (no data, basic data, full data), Bright/Dark Indication
Mode pallet: Image Rotation, Digital Filter, Resize, Cropping, Slideshow, Image Comparison, RAW Development, Index Print, Protect, DPOF
Magnification: Up to 16X, scrollable
Digital filters (playback): Toy Camera, Retro, High Contrast, Extract Color (6), Watercolor, Pastel, Miniature, Base Parameter Adj, Monochrome (filter effects, toning), Color (6), Soft, Starburst, Fisheye, Slim, HDR, Custom Filter
FILE FORMATS
Still: RAW (PEF, DNG), JPG (EXIF 2.21), DCF 2.0 (design rule for camera file system), DPOF, Print Image Matching III
Movie (compression): AVI (motion JPG)
CUSTOM FUNCTIONS
Functions available: 22
FILE STORAGE MATRIX (BASED ON 1GB MEMORY)
JPG   
12M 138 244 479
10M 163 289 564
6M 267 468 902
2M 805 1373 2518
RAW
12M 48
MOVIE (H:M:S)*   
1280x720p24 0:02:56 0:04:08 0:05:49
640x416p24 0:09:52 0:13:47 0:19:00
* Movie maximum: 4GB, 25 min
COMPUTER SYSTEM REQUIREMENTS*
*For device connectivity. Bundled software requirements may vary.
Windows: Windows XP/Vista/7, USB 2.0 port
Mac: MacOS-X 10.3-10.5, USB 2.0 port