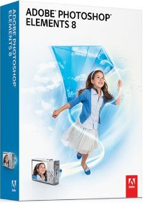 Adobe Photoshop Elements 8 was officially released today and is available on Amazon. As previously reported it will be available on October 22nd.
Press release after the break:
Intelligent Technology and Ease of Use Delivers the Power to Do More with Photos
SAN JOSE, Calif. — Sept. 23, 2009 —Adobe Systems Incorporated (Nasdaq:ADBE) today announced Adobe®Photoshop®Elements 8 software available for Windows® and Mac, providing automated and intelligent photo-editing technology across both platforms. With the newest version of the No. 1 selling consumer photo-editing software,* Adobe continues to make cutting-edge innovation accessible to users who want powerful yet easy-to-use tools to tell compelling stories with their photos.
"With nearly 20 years of Photoshop innovation under our belt, we are able to leverage industry-leading technology that the professionals use and make it accessible to our Elements customers," said Doug Mack, vice president and general manager of Consumer and Hosted Solutions at Adobe. "We've simplified the editing process, without taking away any of the power, and incorporated smart tools with built-in intelligence to bring once difficult tasks, within reach of everyone."
Adobe Photoshop Elements 8 for Windows
With the enhanced Organizer, Windows users of Adobe Photoshop Elements 8 can easily manage media and find photo and video clips even faster than before. The new Auto-Analyzer automatically analyzes and tags media so users can quickly find the most interesting and highest quality content and People Recognition identifies people in photos, becoming more intelligent over time, as it learns to associate names and faces. Also, consumers can now automatically synch all their media across multiple computers.
Photoshop Elements 8 brings editing capabilities and simplicity to a new level. With Adobe Photomerge® Exposure, users can simply merge multiple shots of the same scene, with and without a flash, together to create a perfectly lit photo that shows every detail. Leveraging Photoshop CS4 technology, the new Recompose provides users with an easy way to automatically resize photos without distorting the most important parts. Additionally, Quick Fix previews allow users to visually choose the best color, contrast and lighting adjustments from a series of previews. Once photo creations are ready to be shared, Photoshop Elements 8 offers new interactive Online Album templates that can showcase photos and videos together.
For even more creative possibilities, Windows users have the option to purchase Plus. Additional benefits include 20GB of storage for automatic online backup and sharing (up to 15,000 photos or four hours of DVD-quality video), as well as regular deliveries of tutorials, tips and tricks, seasonal artwork and interactive online templates sent directly to the desktop software. Photos and videos can also be accessed anywhere with an Internet connection at Photoshop.com.
Adobe Photoshop Elements 8 for Mac
Photoshop Elements 8 for Mac is the perfect complement to iPhoto® for consumers who want to go beyond the basics and tell amazing stories with their photos. The software is loaded with new options to make extraordinary photos with ease. For media management, Mac users have access to all the features in Adobe Bridge CS4 software, which provides quick organization with a custom viewing workspace and full-screen preview with one-click close-ups. Keyword tags and a variety of search options also make it easy to find photos quickly.
Photoshop Elements 8 for Mac now includes all of the intelligent photo-editing options as the Windows version. In addition to Photomerge Exposure, Recompose and Quick Fix previews, Photoshop Elements 8 for Mac features Scene Cleaner for brushing away unwanted elements, such as tourists or cars, from a series of photos to create the perfect scene. The Smart Brush helps users apply incredible effects to a specific area of a photo with a single stroke and Touch-Up brushes make common editing tasks quick, such as whitening teeth or making bright blue skies. When creations are ready to be shared with family and friends, users can display their photos on the Web with gallery templates or personal Web pages, by e-mail and on CD or DVD.