The first video is of a flexible OLED prototype, by Samsung: It's a 2.8" display (166ppi), and it's just 20 micrometer thick (source):
The other news from this week was Epson's announcement of a mass production, high-end EVF panels. Some details: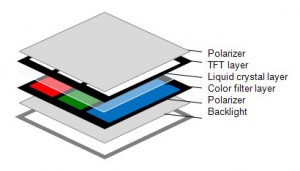 Features of the new panel
Compact - small 0.47-inch diagonal screen enables compact, thin cameras
High resolution - high pixel density with SVGA resolution (800 x RGB x 600, 1.44 megapixels)
Color filter - not affected by color breakup that occurs with fast-moving subjects and panning shots when using a field-sequential color system
Advantages when used in a DSLR camera
High resolution enables easy focusing
Can capture images as they are seen
Viable alternative to optical viewfinder
Avoids the blackout of optical viewfinders when shooting video
Enables smaller cameras by eliminating need for mirrors and pentaprisms
Eliminates mechanical time lag caused by mirror
"The new SDXC specification provides up to 2 terabytes (TB) of portable storage capacity to store weeks of high-definition video, years of photo collections and months of music. It will accelerate SD interface read/write speeds up to 104 megabytes per second for the first phase. It can be used in cameras, camcorders, mobile phones and other consumer electronic devices. The SD Association will have a road map for a data transfer bus interface speed of 300 megabytes per second in the coming months."