Update #3: the release date matches also with the tip I received a month ago.
Update #2: the exact translation is "Scheduled for Tuesday, November 10 (domestic market) Ricoh announces a new digital camera".
Update: the release could be on November 11th, depending on your time zone. Two different sources so far – this is the real deal folks! I have great expectations for that camera and I have the feeling that it will be better than everything else on the market today.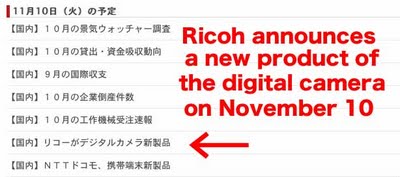 This screenshot was taken from business-i.jp – not sure what the exact translation is. Any help from a native speaker?
Via dslr-links