Update: the new 8mm fisheye lens is available for pre-order on Amazon.
As previously reported, today Panasonic announced a new Lumix 8mm f/3.5 fisheye G lens and a new point and shoot camera Lumix FX75 (I got a tip in advance and this post was online for a short period of time last week, but then I was politely asked to remove it until the day of the actual announcement):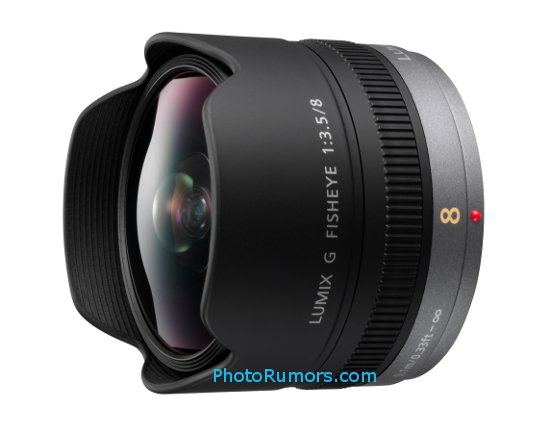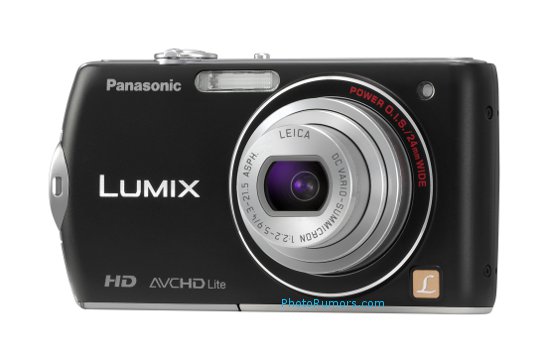 The Panasonic FX75 will have 14MP and a Leica 24mm ultra-wide-angle f/2.2 Summicron lens with 5x optical zoom. The camera will support HD video in AVCHD Lite format. No RAW file format.
Full press release after the break:
PANASONIC INTRODUCES WORLD'S SMALLEST AND LIGHTEST* DIGITAL INTERCHANGEABLE FISHEYE LENS FOR LUMIX G-SERIES
Compact and Lightweight Lens Features 180-Degree Diagonal Angle View
SECAUCUS, NJ (June 1, 2010) – Today, Panasonic introduced the LUMIX G Fisheye 8mm/F3.5 lens, the H-F008, with a 35mm camera equivalent 16mm lens, the world's smallest and lightest* digital interchangeable fisheye lens compatible with the LUMIX G Series, DSL Micro (DSLM) cameras.
Featuring a 180-degree diagonal angle view, the LUMIX G Fisheye 8mm/F3.5 lens offers a distinctive perspective and unique deformation effect, creating a creative view for both photos and video. Additionally, its compact size can be attributed to its ten lenses in nine groups, which takes advantage of the Micro Four Thirds system standard to achieve dramatic downsizing.
"The addition of this lightweight LUMIX fisheye lens gives photographers of all levels the ability to enjoy a range of photo-taking possibilities and expand their creativity," said Darin Pepple, Senior Product Manager, Imaging, Panasonic Consumer Electronics Company. "This lens is not only extremely compact, making it easy to carry, but it allows for photos and videos to be made both up close and from far away – while capturing truly creative images."
The adoption of an ED (Extra-low dispersion glass) lens achieves a stable, descriptive performance at all distances, to minimize chromatic aberration and distortion. The LUMIX G Fisheye 8mm lens has the ability to capture extreme close-ups from far away, due in part to its advanced inner focus system.
The H-F008, Fisheye 8mm lens allows for use of the high-speed and accurate contrast AF system when mounted on the Panasonic LUMIX G Series DSLM cameras, for more comfortable and enjoyable shooting. Seven blades give the aperture a rounded shape that produces an attractively smooth effect in out-of-focus areas when shooting at larger aperture settings. The inclusion of a stepping motor allows for smooth and silent focusing in both photo and movie recording modes.
Pricing and availability for the LUMIX G Fisheye 8mm/F3.5, the H-F008, lens will be announced 30 days prior to shipping. For more information on Panasonic's LUMIX G Micro System accessories and lenses and to learn more about the Panasonic LUMIX G Series of DSLM cameras, please visit  HYPERLINK "http://www.panasonic.com/lumix" www.panasonic.com/lumix.
LUMIX G FISHEYE 8mm / F3.5 (H-F008) Specifications
| | |
| --- | --- |
| Lens Construction | 10 elements in 9 groups (1 ED lens) |
| Mount | Micro Four Thirds mount |
| Optical Image Stabilizer | No |
| Focal Length | f=8mm (35mm camera equivalent 16mm) |
| Aperture Type | 7 diaphragm blades / Circular aperture diaphragm |
| Aperture | F3.5 |
| Minimum Aperture | F22 |
| Closest Focusing Distance | 0.1m / 0.33ft |
| Maximum Magnification | Approx. 0.20x / 0.40x (35mm camera equivalent) |
| Diagonal Angle of View | 180° |
| Projection System | Equisolid angle projection |
| Filter Size | Front : Mounting not possibleRear : Sheet filter holder  22mm / 0.86in  x  22mm / 0.86in |
| Max. Diameter | φ60.7mm / 2.39in |
| Overall Length | Approx. 51.7mm / 2.04in (from the tip of the lens to the base side of the lens mount) |
| Weight | Approx. 165g / 5.82oz |
| Standard Accessories | Lens cap, Lens rear cap, Lens storage bag |
PANASONIC UNVEILS THE ULTIMATE SLIM AND STYLISH HYBRID LUMIX DIGITAL CAMERA THAT SHOOTS HD VIDEO
New LUMIX FX75 Records AVCHD Lite HD Video and Features a 24mm
Wide-Angle, Bright Leica Lens to Capture High-Quality Still Photos
SECAUCUS, NJ (June 1, 2010) – Panasonic announced today the new LUMIX DMC-FX75, a super-slim digital camera that packs big features, including a 24mm ultra-wide-angle F2.2 bright LEICA DC VARIO-SUMMICRON lens with 5x optical zoom, which  can be used while shooting High Definition video. The slim and stylish LUMIX FX75, a 14.1-megapixel digital camera is one of Panasonic's high-performing hybrid models with the ability to not only take high-quality still photos, but can also record HD video in the AVCHD Lite format.
"The Panasonic LUMIX FX75's 24mm ultra-wide-angle lens is a rare feature to have on a compact camera – especially one this small, so we are packing a lot of value and quality into this slim and stylish digital camera," said David Briganti, Senior Product Manager, Imaging, Panasonic Consumer Electronics Company. "Most consumers value the benefits of a long zoom, but understanding the importance of a wide-angle isn't as known. With a 24mm ultra-wide angle like the one on the LUMIX FX75, photographers have a wider range of composition possibilities with approximately 213% larger viewing space compared to that of a 35mm camera."
The LUMIX FX75 can record HD video in the AVCHD Lite format, which allows almost double the recording time in HD quality compared with the conventional Motion JPEG format.  When recording in AVCHD Lite, the content is perfect for viewing on an HDTV, like a Panasonic VIERA Plasma.  To complement the high-quality video, the LUMIX FX75 also features Dolby Digital Creator to record high quality audio. For those users who are recording HD video to view on a computer screen, they also have the option to record in Motion JPEG, as well as WVGA (848×480) and VGA (640×480).
The LUMIX FX75 adopts full touch-screen operation, which allows for Auto Focus (AF) to quickly be set to the subject by simply touching the large 3.0-inch 230,000-dot LCD. Also, the user can click onto a subject with a single touch, and the FX75 then tracks the subject with the AF tracking feature – even when moving. The touch-screen operation is fluid and smooth – whether in record or playback mode.  While recording, once the frame is composed, users can simply touch the area they want focused before pressing the shutter button. In playback mode, users can drag the image across the screen with their finger to browse the collection of photos, as though it is a page in a book.
Panasonic's iA (Intelligent Auto) mode, a hallmark on all LUMIX digital cameras, is further advanced in the LUMIX FX75 with the addition of a new Motion Deblur mode*1 by updating the motion detection (Intelligent ISO Control) and brightness control (Intelligent Exposure) to gain the highest shutter speed possible. Combined with the outstanding brightness of the lens and the POWER O.I.S. (Optical Image Stabilizer), the LUMIX FX75 reduces blur created from handshake or the subject moving. The iA suite of technologies include: POWER O.I.S., Face Recognition, Face Detection, AF Tracking, Intelligent ISO Control, Intelligent Scene Selector and Intelligent Exposure – all which are engaged when in the iA mode.  Panasonic's iA is also available while shooting video and include: AF Tracking, POWER O.I.S., Face Detection and Intelligent Scene Selector.
The Panasonic LUMIX FX75 features the Venus Engine HD II image processor, which helps assure superb image quality in both photo and video recording. It also incorporates Intelligent Resolution technology to perform the optimum signal processing based on the part of a picture to give a whole image outstanding, natural clearness with fine details.  At the same time, the multi-task image-processing engine Venus Engine HD II supports a super-fast response time. The shutter release lag time is as short as approximately 0.005 of a second in 1-area AF, and the camera's quick response makes it easier to capture sudden, spur-of-the-moment photo opportunities together with the Sonic Speed AF.
With the Intelligent Resolution technology, three areas – outlines, detailed texture areas and soft gradation – are examined pixel by pixel and automatically detected to enhance any degradation created during the digital zoom process or in high-sensitivity shooting. The outline areas are enhanced effectively to give the edges more clarity, while simultaneously giving a moderate accent to the textured areas so they look accurately detailed. To soften gradation areas, such as a face, the increased noise reduction system of the Venus Engine HD II is applied to make it appear smoother.  As a result of Intelligent Resolution, images are naturally clear and crisp in both photo and video recording.  The Intelligent Resolution technology powers Panasonic's new Intelligent Zoom feature, which extends the camera's zoom ratio by approximately 1.3x while maintaining picture quality – and enhancing the digital zoom and making it comparable to the quality of an optical zoom. With Intelligent Zoom, the Panasonic FX75 can reach up to 6.5x.
Other features include:
Cosmetic Mode – takes portraits with the user's favorite skin tone (soft skin, natural skin, summer look) and can add a degree of transparency of skin detail (low, standard, high), making it possible to take portraits with different skin tones, for example, look more sun-tanned.
Happy Mode – option in iA that optimizes color, saturation and brightness to make both photos and movies more vivid and true to the color of the scene you memorized.
Battery Life – the high performance Venus Engine HD II is also more energy efficient compared with the conventional Venus Engine HD, extending the battery life up to 360 shots (CIPA) on a single charge.
Pricing and availability for the Panasonic LUMIX DMC-FX75 will be announced 30 days prior to shipping date.  For more information on these LUMIX models, please visit:  HYPERLINK "http://www.panasonic.com/lumix" www.panasonic.com/lumix.