Three weeks ago Think Tank Photo announced their latest sling bag line called Sling-O-Matic. Thanks to the nice people behind Think Tank, I was able to try (exclusively?) a pre-production version of their Sling-O-Matic 30 model: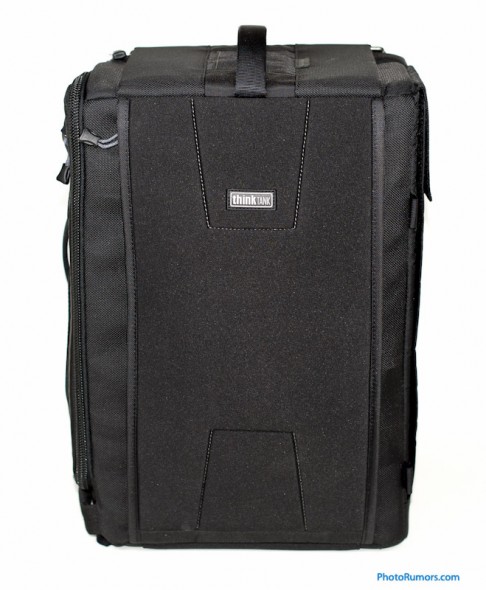 The opening is on the side which provides quick and comfortable access while the bag is on your shoulder: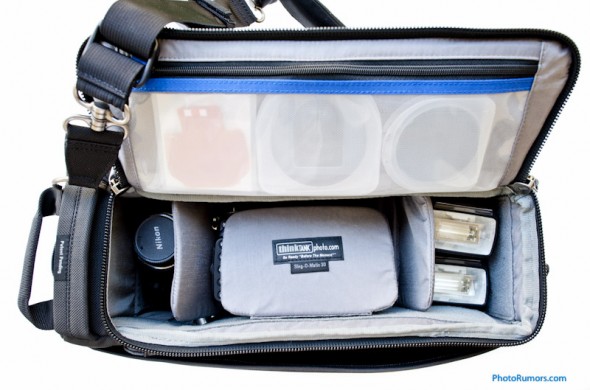 A Nikon 70-200 f/2.8 (the lens on the left) easily fits in with the hood on. Behind the main opening, there is a separate compartment for a laptop (up to 15.4").
Sling bags in general are very comfortable since they can be worn over one shoulder. However, because the weight is not evenly distributed on your back, this sometimes can cause fatigue. Think Tank solved this problem by providing a sliding rails on top of the bag that allows you to switch the position of the main strap and carry the bag over either shoulder. There is also a smaller sliding rail at the bottom to compensate the movement of the strap. The main compartment opening is always on top, independent on which shoulder the bag is carried.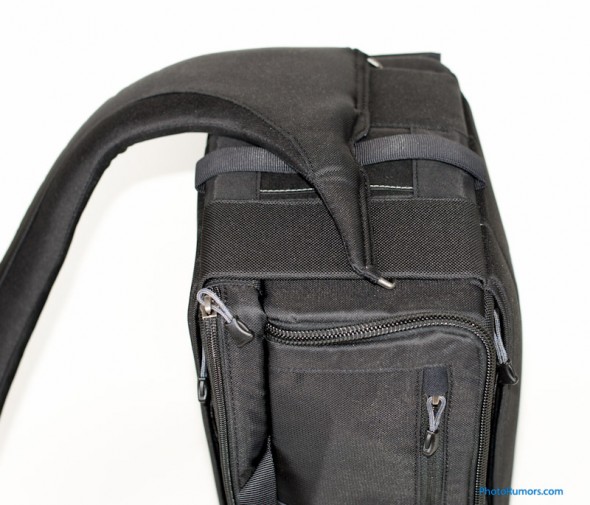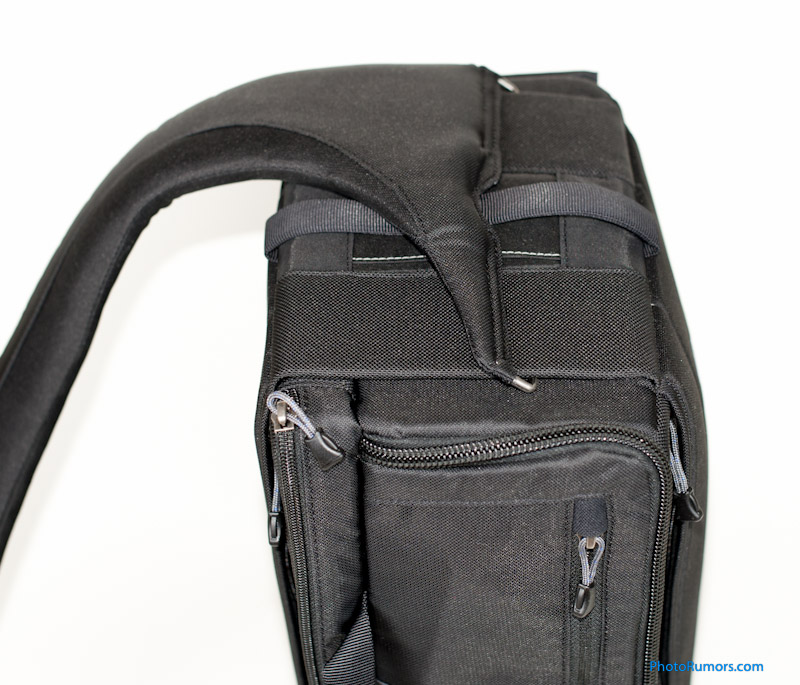 Accessories: Think Tank Photo Sling-O-Matic 30 comes with additional harness system that prevents the bag from sliding. The additional straps can be attached at three different positions on the main shoulder strap. The tripod holder is located on the opposite side of the bag's opening and it comes with additional straps: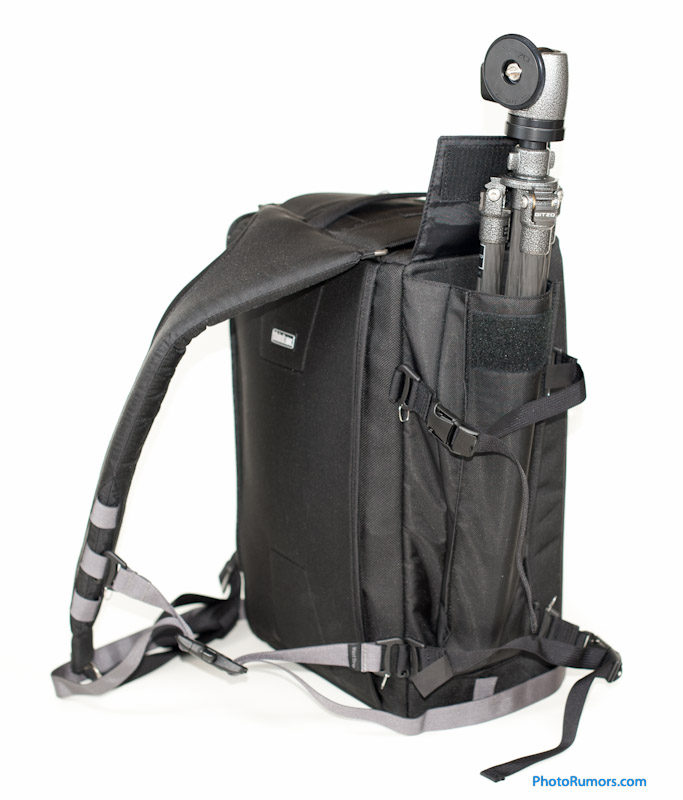 Typical to Think Tank bags, you also get a rain cover and plenty of dividers (in this case 9 in addition to the ones already inside the bag – see top pictures)
See the Sling-O-Matic in action (from thinktankphoto.com):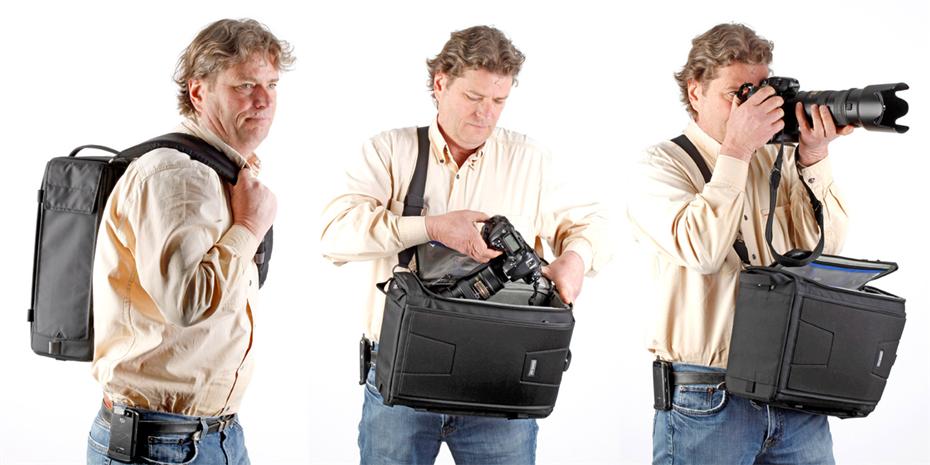 The full specs:
Industry's first sling bag that can be easily switched back and forth to either shoulder
Fits a DSLR with up to a 70-200 f/2.8 lens with hood attached
Can fit a pro size DSLR
Long side pocket for tripod, water bottle, etc.
Handles on three sites
Three zippered pockets
Business card pocket
Chest and waist straps
Includes a rain cover
Inside dimensions: 11.25" W x 16" H x 5.5" D* (28.5 x 41 x 14 cm)
Laptop compartment dimensions: 11.25" W x 16" H x 1.5" D ( 28.5 x 41 x 3.5 cm) – fits a widescreen laptop up to 15.4″
Outside dimensions: 12" W x 17.25" H x 7.5" D (30.5 x 44 x 19 cm)
Weight: 2.9–4.0 lbs | 1.3–1.8 kg (depending on accessories used)
PVC free product
Lifetime Warranty
Available for purchase in October
In addition to the Sling-O-Matic 30, the new bag will also come in two more sizes: Sling-O-Matic 10, Sling-O-Matic 20. Check ThinkTankPhoto.com for more details.
Disclosure: Think Tank Photo is an affiliate partner of PhotoRumors.com. You can get a free camera bag for orders of $50 or more directly from Think Tank Photo if you follow this link. The shopping cart system will automatically ask you which one you'd like to add to your order.