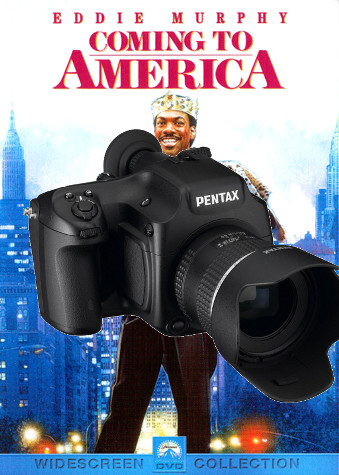 The medium format Pentax 645D camera will now officially be coming to America (as previously reported). The Pentax 645D body  will cost $9,995.95 and the Pentax-D FA 645 55mm F2.8 lens will sell for $1,199.95. Both will start shipping in December of 2010. Only limited number of stores will be carrying this camera – see the full press release after the break:
AMERICAN PHOTO MAGAZINE NAMES PENTAX 645D AN EDITORS CHOICE 2010
THE LONG-ANTICIPATED MEDIUM-FORMAT DIGITAL SLR TO APPEAR AT PDN PHOTOPLUS 2010 AND WILL SHIP TO THE UNITED STATES BY DECEMBER
More information is available here: www.pentaximaging.com and product images are available here:www.pentaximaging.com/press/pressfiles.html
GOLDEN, CO.  (October 12, 2010)…PENTAX Imaging Company confirmed today that the long-anticipated PENTAX 645D medium-format digital SLR camera will ship to select U.S. dealers and pre-order customers by December 2010 in very limited quantities.  PENTAX also announced that the camera has received an AMERICAN PHOTO MAGAZINE EDITOR'S CHOICE 2010 award in the November/December issue.
In the current issue, AMERICAN PHOTO magazine states that "PENTAX's first medium-format digital camera is a bombshell, delivering 40-megapixel image quality for radically less money than comparable medium-format systems.  How does it do this?  By borrowing core technologies from the APS-C-format PENTAX K-7 DSLR.  In fact, it will seem instantly familiar to any PENTAX DSLR owner."
The article goes on, "The 645D's gigantic 44×33-millimeter Kodak CCD boasts two-thirds more pixels than a full-frame 24-megapixel DSLR and produces 23×30-inch native image size at 240dpi, ideal for big prints.  The body itself offers superb balance and ergonomics, a light but tough magnesium-steel alloy frame with extensive weather sealing, and automatic sensor-dust cleaning, a first in a medium-format digital camera.   It also features built-in automatic correction for a given PENTAX 645 lens's optical characteristic."
The PENTAX 645D medium-format digital SLR is among "12 TOOLS THAT CHANGE THE RULES" and that "of all the hundreds of cameras, lenses and accessories released over the past year…these are the ones that matter most – the true innovations in the field."
Along with the 645D, PENTAX Imaging Company also will ship the smc PENTAX-D FA 645 55mm F2.8 lens, the first model of the smc PENTAX-D FA 645 Series.
Previously announced camera and lens features and specifications follow in the associated fact sheets.
The PENTAX 645D (body only) will ship in December 2010 for the price of $9,995.95 USD.    The  smc PENTAX-D FA 645 55mm F2.8 lens will ship at the same time for $1,199.95 USD.
Along with the purchase of the PENTAX 645D, each new owner will have prioritized access to:
• A dedicated team of  US-based  PENTAX 645D specialists to answer 645D customer service and product questions (Monday – Friday 7:30am-4:30pm Mountain Time – holidays excepted)
• Automatic enrollment in the PENTAX PROFESSIONAL SERVICES Program offering access to various medium format lenses and accessories.  More details:
http://www.pentaximaging.com/about-us.aspx?p=press&pid=News713200935616109155
There are limited ways to experience or test drive the PENTAX 645D prior to purchase:
• The camera will be displayed in PENTAX Booth 612 during PDN PHOTOPLUS EXPO from October 28-30 at the Jacob Javitz Center in New York City.  Show details and registration information is available here: www.photoplusexpo.com
• Anticipated select retailers* that will offer the PENTAX 645D camera in-store by December 2010 (and may accept pre-orders on the camera body and lens) include:
Ace Photo
44710 Cape Ct. Suite 122
Ashburn , VA  20147
703-430-3333
www.acephoto.net
B&H Photo Video
9th Ave. @ 34th St.
New York, NY 10001
800-606-6969
www.bhphotovideo.com
Adorama Camera
42 West 18th Street (Between 5th & 6th Ave.'s)
New York, NY 10011
800-223-2500
www.adorama.com
Samy's Camera
431 S. Fairfax Ave.
Los Angeles, CA 90036
323-938-2420
www.samys.com
*Retailers subject to change.
The camera and lens also are also available for purchase on the official PENTAX Online Retail Store: www.pentaxwebstore.com
The consumer contact information for ongoing details about the camera's features and availability is:
pentaxinfo@pentax.com
1-800-877-0155
www.facebook.com/pentax
Sample PENTAX 645D images produced independently by photographer Chris Wilson are available here:
http://travel67.wordpress.com/ More information about Chris Wilson: http://travel67.wordpress.com/about/
PENTAX Imaging Company is an innovative leader in the production of a variety of digital cameras including; weather-resistant medium format digital, DSLRs and stylish, compact, waterproof cameras, as well as lenses, flash units, binoculars, scopes, and eyepieces.  For over 90 years, PENTAX has developed durable, reliable products that meet the needs of consumers and businesses.  With headquarters in Golden, Colorado, PENTAX Imaging Company is a division of PENTAX of America, Inc.