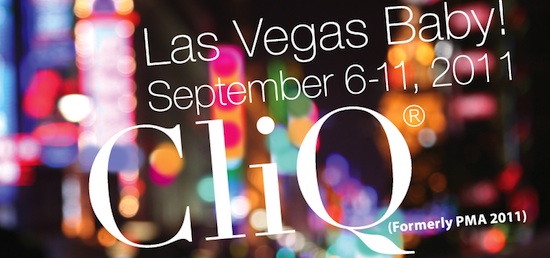 PMA launches CliQ
JACKSON, MI – PMA – The Worldwide Community of Imaging Associations presents CliQ, a new branded experience for photo enthusiasts and anyone interested in getting the most from photography and video.
"CliQ is a 24-hours-a-day, seven-days-a-week commitment on the part of the association to provide content and tools for everyone involved in photography, from consumers to aspiring pros, to retailers and professional labs," says Ted Fox, executive director and CEO, PMA. "Also, with the recent addition of the Professional Wedding and Studio Photographers Association International (PWSPI) to the PMA family, the association has broadened its appeal to include all segments of the photo/video industry." The launch of the CliQ website, at cliqworld.com features how-to tips, new product reviews from DP Review, and monthly photo contests. In the coming months, more features will be added, leading up to the annual event in September.
Changes to the PMA annual convention
CliQ brings extensive changes to the PMA 2011 annual convention, planned for Sept. 6-10, 2011, in Las Vegas, Nev. The expanded event is renamed CliQ 2011, and features presentations from well-known photographers like Jasmine Star, Scott Bourne, Tracey Clark and Stacy Pearsall. Workshops, photo walks, and seminars will be part of the CliQ experience, along with entry to the world's largest annual photo trade show. The show will feature interactive zones, spotlighting technology, tips and techniques in these major areas:
Shooting zone – Demonstrations by leading photographers of still photography.
Mobile zone – Spotlights the hottest and best mobile phone apps.
Software tutorial zone – Learn the ins and outs of leading desktop and web photo applications.
Innovation zone – Spotlights new and emerging technologies.
3D zone – Features the emerging area of digital 3D photography and video.
Video zone – Features one of the fastest growing areas in imaging today: HD and SLR videography.
The show will also feature custom-picture framing and the GoingPro Bootcamp photography business seminar.
Core market commitment
"The PMA convention will continue to offer the same leading-edge programming for the retailers, custom framers, studios and chain stores," says Fox. "PMA members will recognize classic convention features, like the DIMA Printer Shootout, the DIMA Photo Book Showcase, Retailer Hot Picks, Photographer Hot Picks, DIMA Innovative Product Awards, and the Official Business Session."
Fox adds PMA trade attendees will be able to enjoy the widest range of experiences at the September event. Also, as previously announced, North America's largest photo retail buying group, Photographic Research Organization (PRO), will stage a major buying event in conjunction with CliQ 2011, using it as a launch point for 2011 holiday season merchandising.
Learn more on podcasts
Listen to an interview with Fox on the DIMAcast or AIE Imaging Executive podcast, live today. The interview, conducted by PMA senior editor Jennifer Kruger, also features Chad Munce, group executive, digital imaging markets, and Gary Pageau, PMA publisher.
What is CliQ?
CliQ is a community, united by passion for still and motion images. It's the source for all things photography; industry news, product reviews and more. CliQ creates direct dialogue between manufacturers, retailers and photographers to help them learn, discover and share. See what's happening in imaging at cliqworld.com.